The Latest Homewares Trend Involves Styling Scalloped Bedding

From Instagram to Tiktok, Pinterest to — well, any social media platform, really — it was likely that, throughout 2021, you were unable to escape the homewares trend of twisted candles and wavy mirrors. Soft geometrics ruled interior design: we saw squiggles, curves, rounded edges, arches.
Etsy called out the homewares trend of organic shapes dominating last March; shoppers increased searches for wavy candles by 28,236% and wavy mirrors by 5,296%. It was featured everywhere from Vogue to Refinery29, The Zoe Report to Better Homes & Gardens. Needless to say, these trending homewares were…making waves.
In fact, this topsy turvy trend is set to continue into 2022. Pinterest Predicts — yes, the same people who predicted loungewear and colourful palettes — are saying that curve is, indeed, the word. And before you groan (at the pun or the inability to escape curvy interior design), this trend has multigenerational appeal. Boomers, Gen X and millennials are all driving the searching behind this trending homeware, so says Pinterest.
They're not the only ones who think this interior design trend has legs (albeit, wavy ones). House Beautiful is calling curves one of their "favourite new home decor looks", while Architectural Digest is also saying that "complex and curvy shapes" will continue as a home decor trend into 2022.
Here at Sheridan, we're firm believers of this trend. In fact, we think it should be incorporated throughout your home — specifically, your bedroom. We're not necessarily talking about a curved headboard or a sculptural candle or vase by your bedside table, even though we think they'd look great.
It's just that we're of the opinion that curved bed linen could really…round out your home.
---
Shell Out on Scalloped Bedding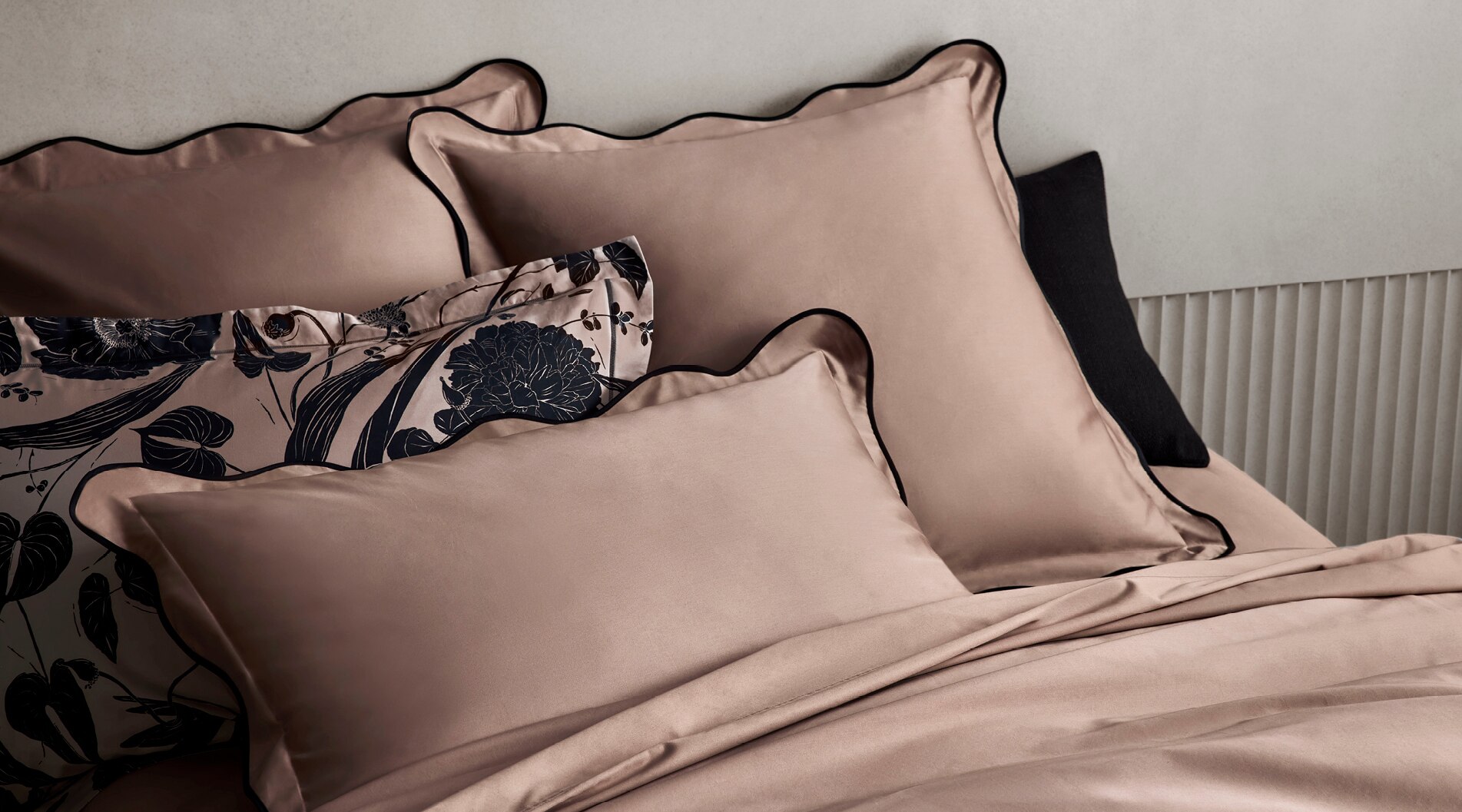 Inspired by the sea, scalloping is one way to bring a nautical motif into your space. With its undulating waves, it's a charming design, which balances nostalgia and naivety in the one look.
Make your bed the centrepiece of your room and the visual focal point with scalloped bed linen — all over. Yes, we're talking about styling a unique look that relies on scalloped quilt covers, pillowcases and cushions.
In fact, we're talking about our Tamber collection: in a dusky pink, its scalloped edges are finished with striking black piping for brilliant juxtaposition. Crafted with a cotton Egyptian blend fabrication and boasting a lustrous sheen, it's a playful offering available in a quilt cover, tailored pillowcase pair and European pillowcase.
For a softer, more romantic look, style Tamber back with sheeting in a similar shade, which is finished with the same sheen. We recommend the Cotton Egyptian Blend 600 thread count sheet in smokey rose.
If you're after an aesthetic with a starker contrast, mix with sheeting and decor in a carbon shade. Our Abbotson Flat Sheet and Reilly Sheet Set are crafted from 100% Belgian flax linen and 100% cotton chambray respectively, with the difference in fabric acting as another point of contrast. Also available as shams, layer them at the top of your bed.
---
Go Graphic With Scalloped Bed Linen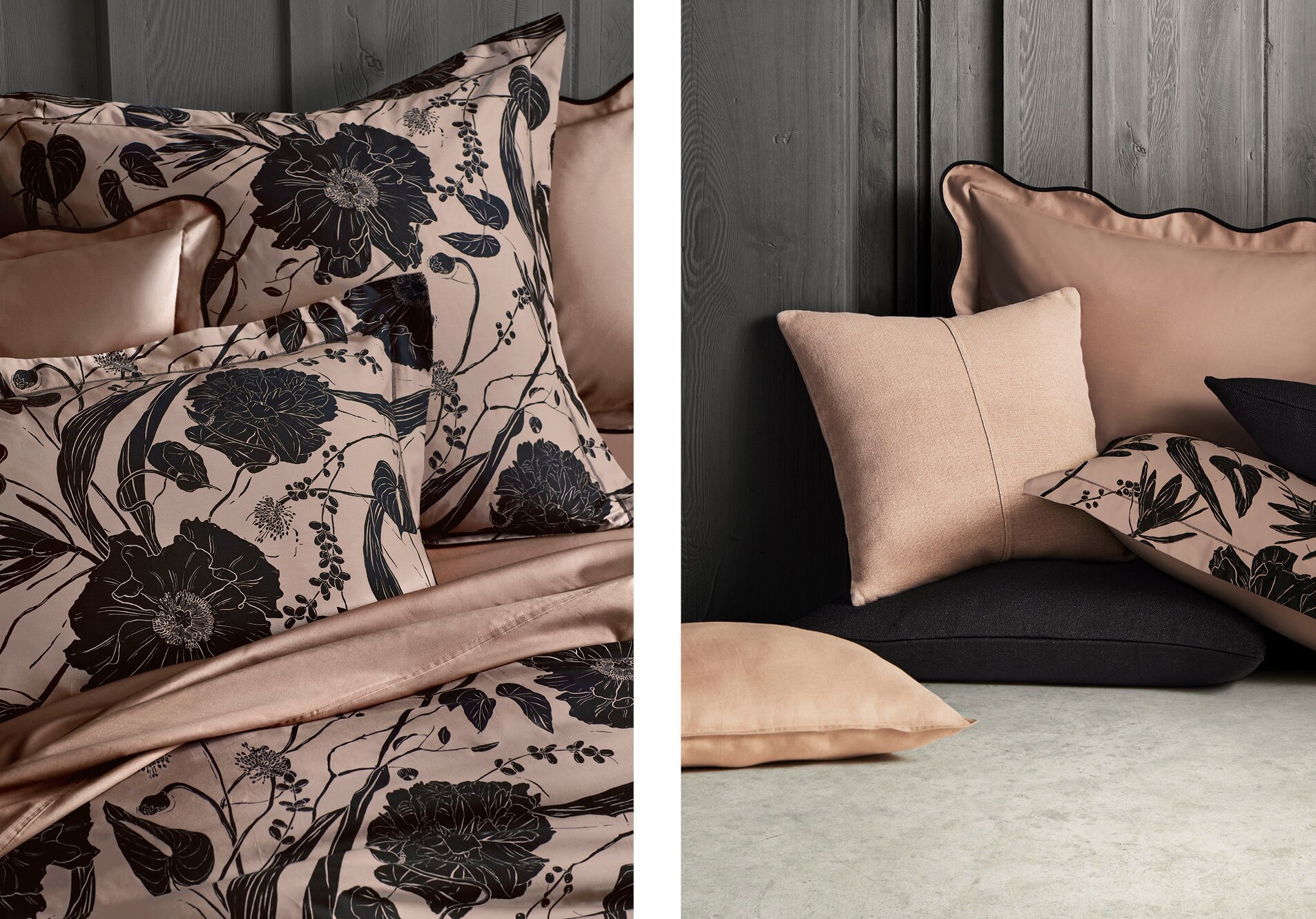 Scalloping also makes for a perfect accent within your home decor; hinting at curve interior design. For modern styling, look to combine scalloped bed linen with offerings that are more graphic than they are geometric. A design focus this season within Harmony of Contrasts, juxtapose strong lines with soft curves.
Artistic techniques, like linocut printmaking, contrast with the soft organic curvature of scalloping. With the Andren collection, cascading blooms, anthuriums and foliage in a contemporary shade of carbon appear etched on the surface. Contrasting against the pastel-dusted background, tailored edges and carbon detail stitches provide clean, sharp lines as a point of visual disruption.
As Andren boasts the same colour palette as Tamber, by styling the two together, you have a look that's simultaneously fresh and graphic. Let Andren take the lead, pairing the quilt cover with sheets in a smokey rose, like our Cotton Egyptian Blend 600 thread count sheet.
Andren's tailored pillowcase pair and European pillowcase feature a plain reverse, making them ideal for versatile styling and layering options. Play with both sides, add scalloped elements through Tamber's pillowcase offerings, and don't forget to include carbon cushions.