We spend one third of our lives sleeping, so there's no greater investment than quality bed linen and bed accessories. To create the perfect night's sleep, quality materials and fibres, size and weight all come into play.
When building the foundations for a restful sleep, it is important to start from the mattress up. It's all about creating the right feel for you. Once you discover what works best for your body, you'll be waking up feeling more rested and rejuvenated than ever.
Protect your mattress
Just like your home or car, a mattress is an investment you can protect with a few extra steps. Acting as the first layer of your bedding, a mattress protector works to prolong the life of your mattress by controlling dust mites and minimising the growth of any nasties or bacteria.
Our Ultracool Mattress Protector has been crafted using a soft and luxurious 100% Supima cotton percale cover, which is breathable and machine washable for easy care. Also available in a waterproof option, this anti-microbial protector will keep your mattress free of stains and bacteria, making it ideal for those prone to allergies.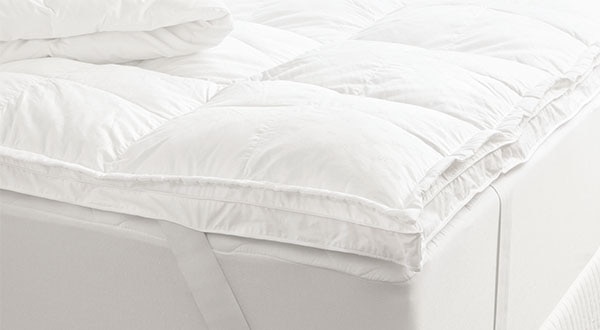 Top off your mattress
A mattress topper is the second step in building the foundation for a beautiful night's sleep. Think of it as an extra layer of luxurious padding for your mattress. Toppers are perfect for iif you're looking to either prolong the life of a new mattress or refresh an old one. We offer three soft fills; feather and down, wool and microfibre.
If you or your children are prone to allergies, the Deluxe Dream Bed Topper is ideal. Made with an innovative microfibre fill, this bed topper features an anti-microbial treatment to protect asthma and allergy sufferers. This incredibly soft blend feels similar to feather and down, without the risk of irritation.
Free of allergies? Our Ultimate Dream Bed Topper is filled with 85% white goose down and 15% white goose feathers for heavenly softness. Made with a box cassette stitch, this mattress topper provides a beautifully soft and even spread of warmth.
For those living in changing climates, the Deluxe Wool Underlay is a highly versatile option. This reversible mattress topper is ultra durable, using 100% Australian MycraLoft wool and cotton sateen to keep you warm during winter and cool throughout summer.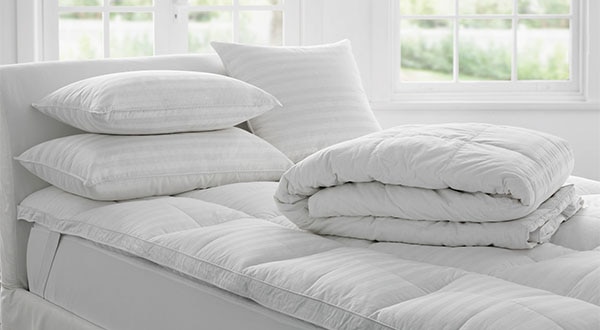 Finding the perfect quilt
One of the most crucial components of a comfortable sleep, is finding the right quilt. To begin with, you should consider the type of sleeper you are, as well as your typical sleep environment. Are you a hot or cold sleeper? How insulated is your home? If you live in an older home for example, you may require a weightier quilt during the winter. When choosing your bedding, ideally you want to match your quilt fill to the fill of your mattress topper.
Warmth without the weight
There's nothing more indulgent than a beautifully crafted feather and down quilt. This natural fill works well if you're looking for warmth without the weight. Temperature regulating feather and down is perfect for the cooler months.
Crafted using a box cassette stitch design, the Deluxe Feather & Down Quilt offers an even warmth distribution. This premium quilt is filled with 50% white goose down and 50% white goose feather for a cosy sleep.
Our most premium offering is the Pure Indulgence Feather & Goose Down Quilt. True to its name, this luxuriously soft quilt is generously filled with 85% premium Hungarian white goose down and 15% white goose feather.
Looking for something a little heavier?
If you prefer the feel of a heavier quilt, consider Australian wool. This highly insulated fill is temperature regulating and available in two weights for all seasons.
Made using 100% Australian MycraLoft wool, the Deluxe Wool Quilt offers balanced insulation to suit a variety of climates. This new wool technology is ultra soft, incredibly warm and ideal for use all year round. With a 100% cotton sateen cover, it's machine washable for easy care and breathability.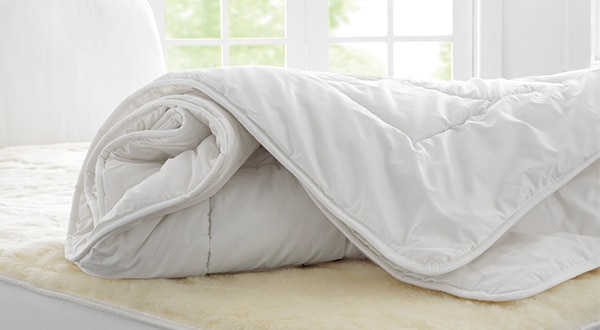 Allergy sufferers take note
If you prefer a lighter quilt or struggle with allergies, a microfibre fill will be your go-to. While all of our quilts feature an in built antimicrobial treatment, microfibre alternatives are perfect for anyone with allergy sensitivities.
The Deluxe Dream 2 in 1 Quilt was designed for those with allergies who still want the look and feel of a feather and down quilt. With a baffle stitch design and 100% polyester fibre fill, this beautifully soft quilt offers effective and evenly spread warmth and comfort. This versatile set includes two quilts which can be separated or clipped together, depending on your sleeping environment.
Keeping cool in summer
For the sticky summer months, there's nothing like a light and airy quilt to keep your body temperature regulated. The Ultracool Cotton Quilt has been crafted using a 100% cotton fill to keep you comfortable and cool in the warmer months. This anti-microbial quilt works to effectively control dust mites and minimise the growth of bacteria known to trigger hay fever or allergies.
The finishing touch
The final layer to your beautiful bedding is a relaxed throw or blanket. The classic Cotton Waffle Blanket works all year round as it's incredibly light and breathable. With a border finish, it's also ideal for adding texture to your bedroom.
For those icy winter nights, layer our Australian Washable Wool Blanket beneath your quilt for added warmth. Crafted with a superior yarn and 100% Australian wool, it offers a natural insulation and breathability.
Know your sizing
Single Quilt Cover – 140x210cm
King single/Double Quilt Cover – 180x210cm
Queen Quilt Cover – 210x210cm
King Quilt Cover – 245x210cm
Super King Quilt Cover – 265x210cm