At Home With Shirin Pulitano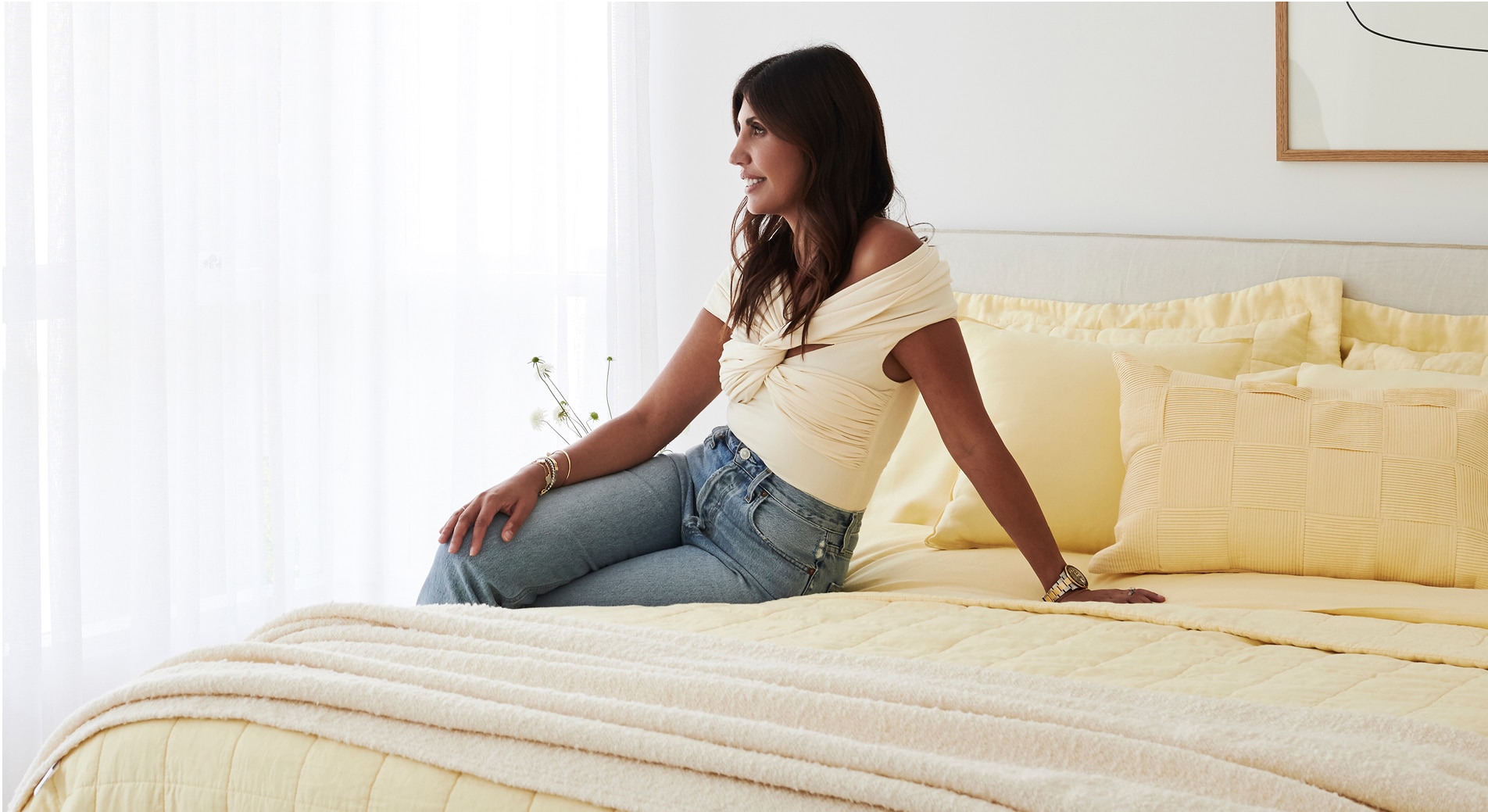 When one half of a couple is a designer, and the other half a builder — you just know their holiday home is going to be absolutely dreamy. 
That's exactly what's happened with Shirin Pulitano, Founder and Managing Director of design and events agency DOT DOT Dash — married to Daniel, General Manager at Pulitano Commercial Construction. Oh, did we mention they co-own Melbourne bakery — a cult-status hotspot — Bread Club?
The couple, who have two kids — Oscar, nine and Matilda, five — began looking when Shirin was pregnant with Matilda, back in April 2016. Searching for a coastal property, she reflects on wanting a place the family could spend summer holidays and weekends. Must-haves? Space to accommodate a pool, and close to nature.
Finding everything they needed in Sorrento, the Pulitano's moved into the space a year and a half later. Together, the family loves spending long days at the local front beaches — with Shirin talking about how she adores the views the location offers them, as well as the "close proximity" to the back beaches in the area.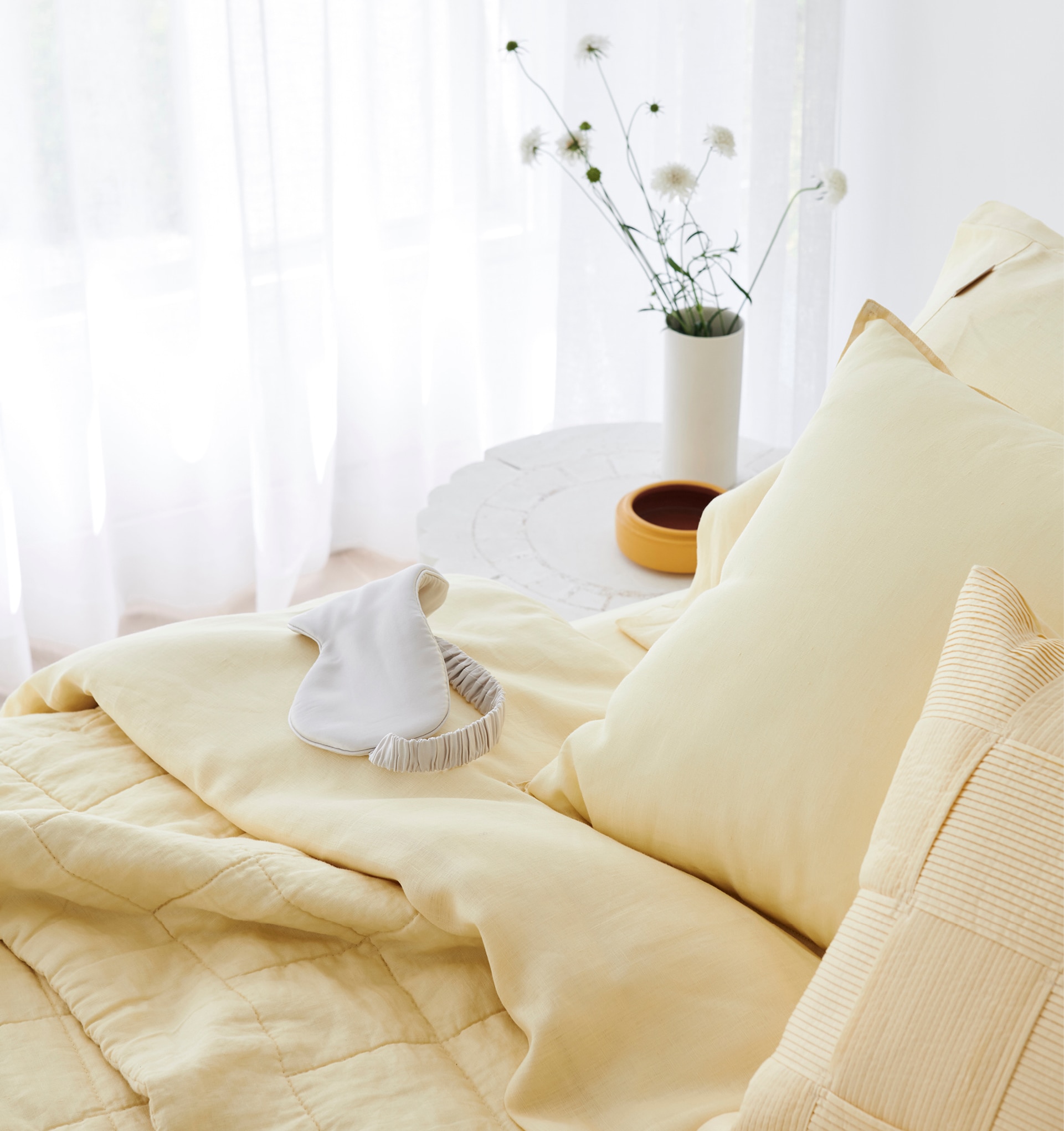 The existing space was a "red brick house" — something that was "gutted out, apart from structural walls and some windows." Calling on the talents of "friend and talented architect" David Dubois, he designed the refurb and extension.
Now? The home boasts an environment that's "light, bright, fresh, but also comfortable." With light timbers and black terrazzo accents against a neutral palette of white, it looks — and feels — just as coastal as the surrounding suburb.
Throughout the bedrooms — both kids' and parents' spaces alike — is the Abbotson Linen collection. In Oscar and Matilda's shared space, beds are styled with the Abbotson Linen Bed Cover in flax, with personality, character and colour brought through sheeting and accessories — like the Mara Check Fitted Sheet Set, Elvie Pillow Sham and Wildflower Cushion.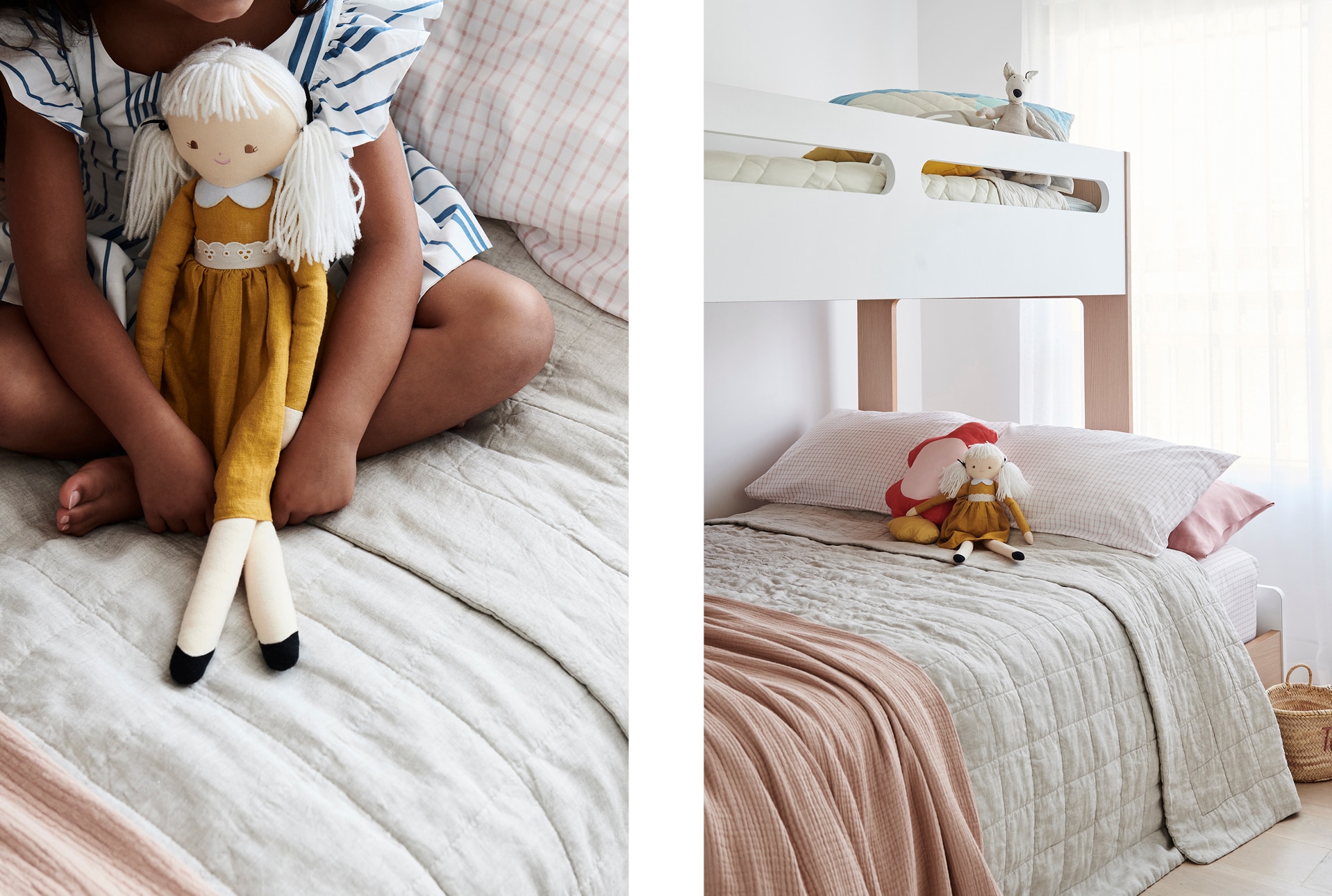 Over in Shirin and Daniel's room? Bedding dressed and decorated with the summery hue sandcastle. Ideal for a relaxed-luxe look, they've layered linen sheeting with linen quilt covers, bed covers, and topped off with linen pillowcases. 
Sunshine shades are further scattered throughout the space, with the Brannen cushion continuing the beachy, laid back vibe into the lounge room. 
Although holiday homes can sometimes be guilty of feeling impersonal, this Sorrento space can't be accused of this. Talking about incorporating her personal aesthetic throughout the space, Shirin speaks of her belief that "the most personal thing you can bring to a home is art." 
Some purchased for the Sorrento space, others a collection from previous homes — most of them boast one thing in common, works by Australian artists. Throughout, you'll find a "mix of mediums, photography, sculptures, abstract and line drawings."
According to Shirin, the most meaningful item in the home is an artwork by Christiane Spangsberg, featured in their front sitting room. "It reminds me of a great trip we had with family and friends in the South of France," she reminisces.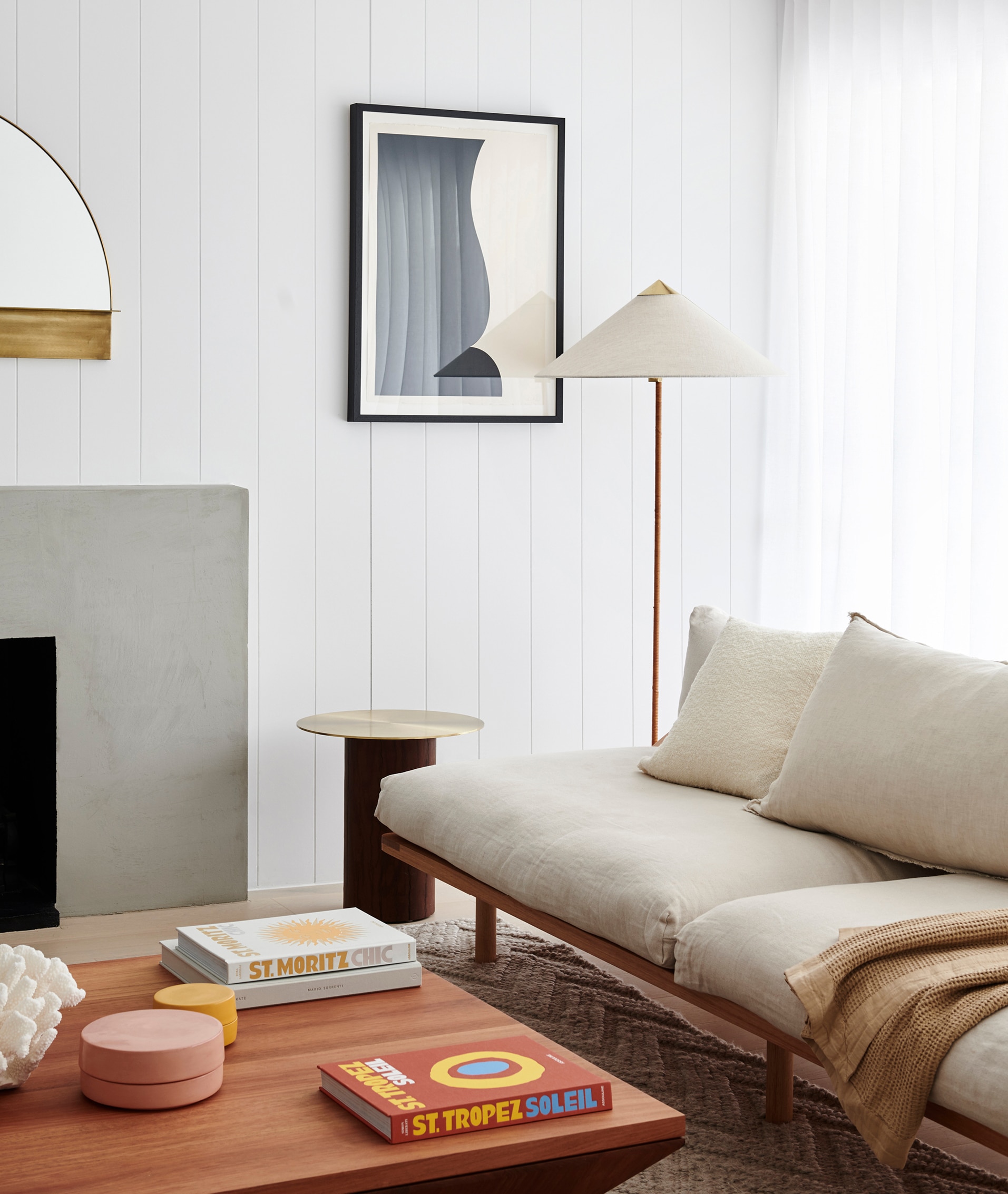 And if you're wondering if they got the space for the required pool? Yes, they did, and Shirin calls it one of the favourite parts of the house. "We try to spend most of our time outside around the pool." 
Black and white umbrellas provide adequate sun protection, eucalyptus coloured furniture complements the landscape, and Sheridan's Cancun beach towels are required for drying off after a dip.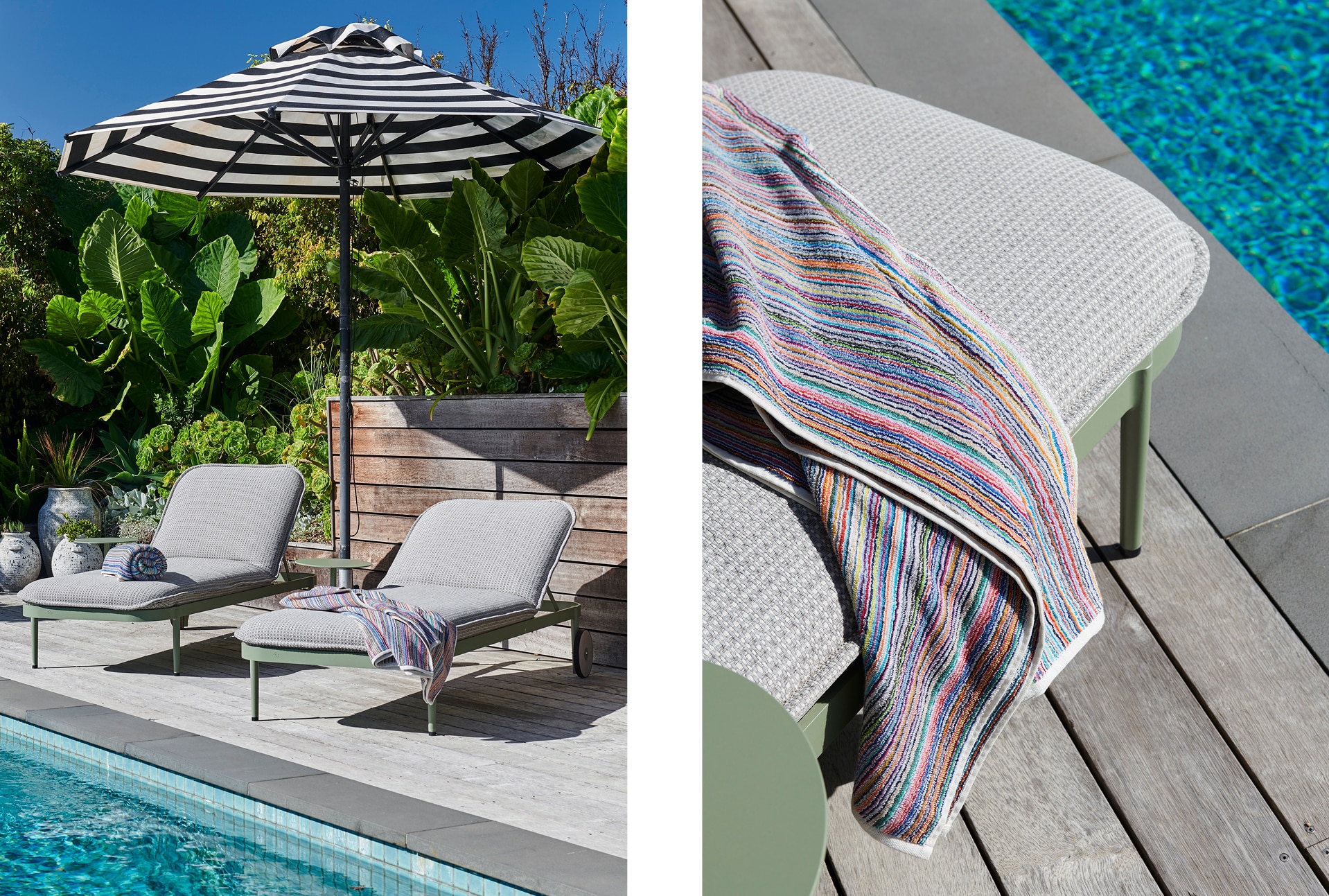 Not only do they have French doors that open up to the back deck and pool, but it also gives her a perfect view of the landscaping by Peachy Green — "a lush green oasis." At times, the Pulitano's just "open the French doors", sitting at the dining table or living room, just to look out into the garden. 
It's also been the scene of "happy memories" — which captures the essence of what a home is to her.