For anyone who can recall the monogrammed trend that took hold of all our accessories, tech and otherwise, in 2014 — well, you've got Alyce Tran to thank.
A wildly popular entrepreneur, not only did she co-found The Daily Edited — the vogue of personalisation — she's also the founder of In The Round House, a sleek, stylish and tongue-in-cheek lifestyle brand. If you've seen a quirky plate or platter adorning a tabletop whilst scrolling social media, it's a good chance Alyce Tran was the brains behind it.
That sense of style — and sense of playfulness — accompanies her in other facets of her life. Like her picture-perfect terrace in Paddington, a trendy inner Sydney suburb. If you're wanting a look at Alyce Tran's new house, we're here to provide you with a peek into the pastel-hued space.
Think unapologetic splashes of femininity throughout — we can't say touches when her dining room includes a custom-made pastel pink concrete dining table, a pink pendant hanging light and striking artwork hanging on the wall. Yes, also in shades of pink.
Up in her bedroom, there's the gingham Perrie quilt cover, paired with Supersoft Lyocell Linen sheeting in bluebird, almost a perfect replica of the small framed painting that hands beside her bed (all that's missing are the lemons — the Kolsby square cushion will make do).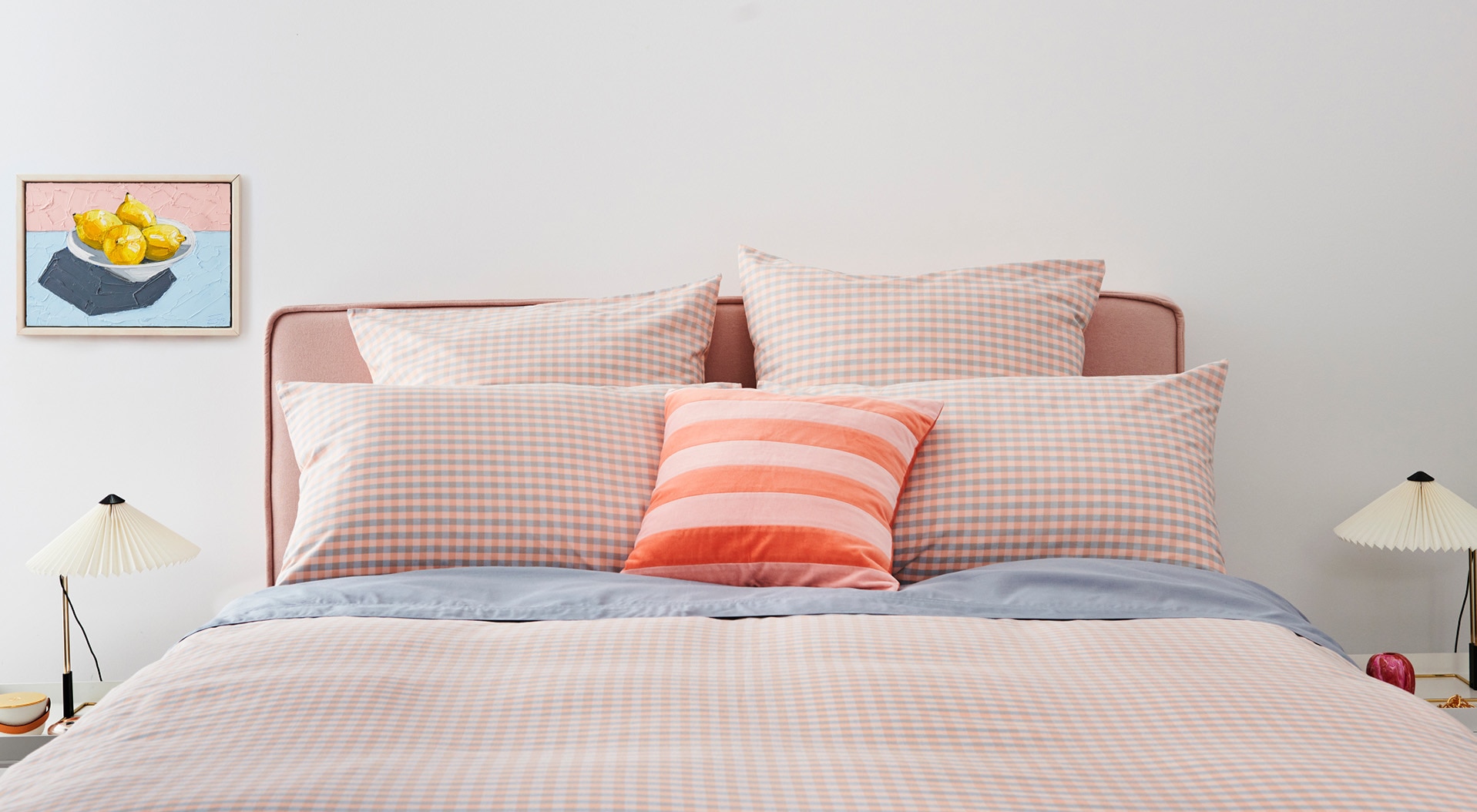 Coming across the three-storeyed terrace in late August last year, she wasn't one to wait, moving in the next month. The layout was something that drew her to the home, talking about how the "tons of different spaces" meant she could "never feel bored or in a rut when she's home" — she can just solve that problem by changing her environment.
This outlook is in line with her home's atmosphere, something Alyce tries to keep "casual and easy, but also inspiring." She trusts her intuition when it comes to styling, as opposed to a mood board, talking about looking for things that are "a bit different to the norm." Veering away from what she's seeing "a lot of" — "but I can't help myself with some trends!" — she talks about the power of investing in big-ticket items that are properly designed.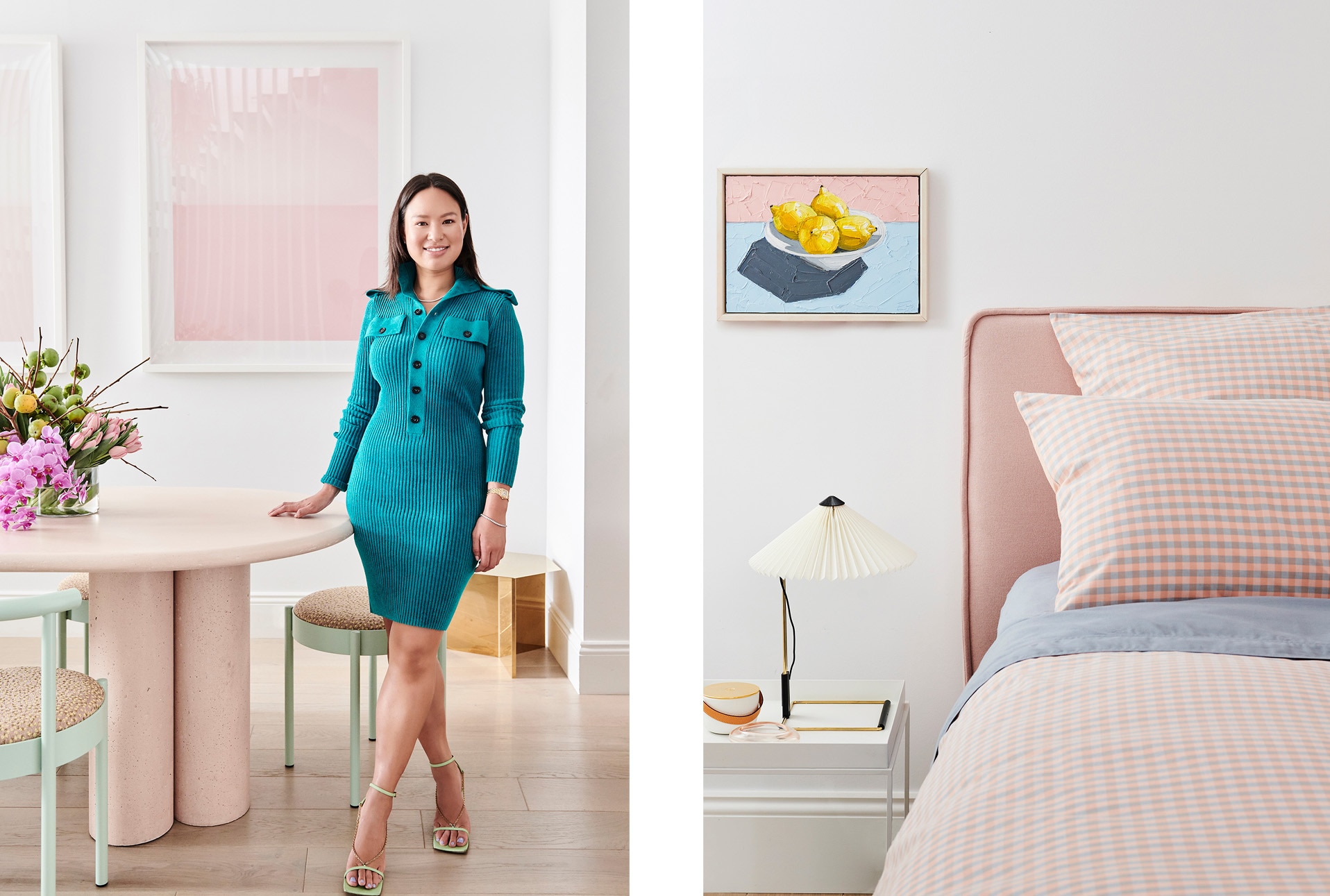 When asked how she turns a house into a home, she talks about considering a home to be "a really personalised space" and finds that when she has her favourite objects around her, "I am home!"
It's easy to be surrounded by favourite objects when she speaks about her home being "a reflection of things I love, from art to homewares to books to clothes." Calling herself a "style chameleon" who likes everything, she says this has flowed into her home.
As for the most meaningful item — or in Alyce's case, items — in her home, "Perhaps my vast collection of vases that I have collected and been gifted over the last decade." Not only does she enjoy styling them, when she uses one she remembers "when I got it, or who gave it to me."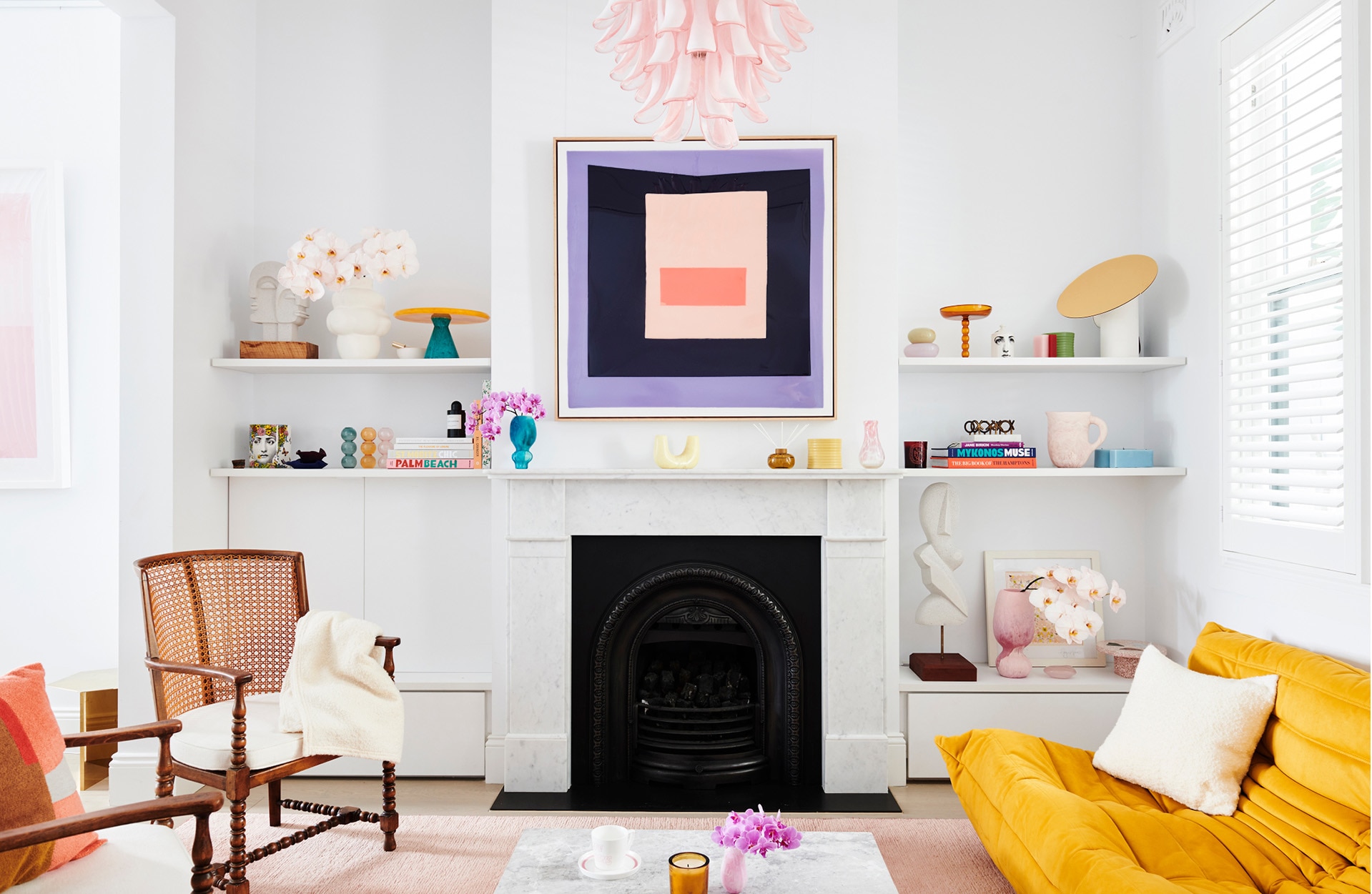 Alyce claims she's "nowhere near done here!" with her home, claiming one of her living areas is her favourite "as it's one of the only spaces that is nearly 'done'" — even though she's not quite sure. With stacks of colourful books, striking trinkets galore, eye-catching furniture topped with the Farretta cushion and throw, and the Ortiz cushion — all bringing additional texture to the space — we agree with her assessment (about being the favourite space, of course!).
According to her, completing her home involves getting "way more" furniture and objects to fill the space throughout the three floors.
We bet guests won't have any issues sitting in the striking dining room, where meals are served up on In The Round House plates and platters.
One area where she has no complaints? "The light! Plenty of light for a terrace house!"