Find the towel collection to suit your lifestyle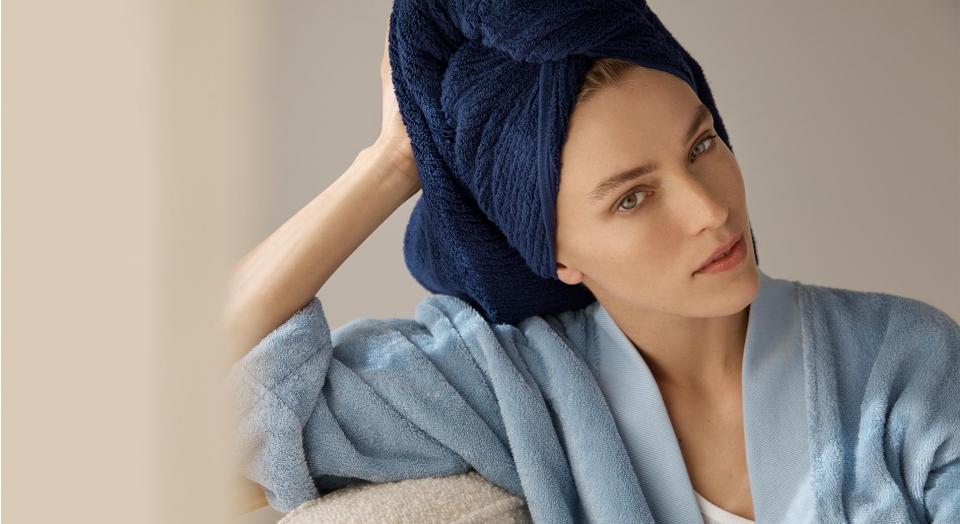 All Sheridan towels are made equal when it comes to quality, but their appropriateness will vary from person to person. Find out which Sheridan collection is best suited to your lifestyle and discover what a quality towel can do for you. Never underestimate the power of the perfect towel!
The Busy Family - Chiswick

Finding a towel that's fit for the whole family can be quite the challenge. The perfect towel for a busy family needs to be soft, fast drying, lightweight and durable enough to grow with your family so you don't need to invest in a new collection time and time again. Fun textures and colours will keep your busy bathroom looking fresh. Invest in one collection in a variety of colours to combat any confusion over whose is whose.
---
The Beauty Queen - Luxury Egyptian
Whether you're pampering yourself with a mini facial, prepping for the weekend with a fake tan or it's a simple routine hair wash; you're in the bathroom to do business. One towel won't do, you'll need several of different sizes to cater to your routine. A bath sheet for the body, a towel to wrap your hair and a face washer for cleansing.
The colour of your towel collection should be a reflection of the products used in your beauty regime. If you use any harsh face washes, hair products or moisturisers, opt for a white towel. Some ingredients can strip bright colours from towels, so play it safe with white if this applies to you. If you use all natural products (and a eucalyptus based washing detergent), you'll increase the longevity of your towels and they'll maintain their colour.
---
The Speed Showerer - Living Textures
No time to waste, it's go go go! When it's time to shower, you're in, out and dried in the blink of an eye. It may be misconceived that you don't need to invest in a quality towel with such little time dedicated to your daily shower, however that's where you're wrong! A lightweight, fast drying towel that's highly absorbent will compliment your speedy shower ritual. Our Living Textures towel collection is crafted with innovative Hygro™ Technology, a spinning technique that allows water to be captured faster. Meaning you can dry off in a dash, without forgoing any softness.
---
The Eco-Warrior - Supersoft Luxury

Cooler, shorter showers, all natural products and the gentle aroma of essential oils. What's missing? The softest towel you've ever felt. The Supersoft Luxury towel collection is our softest towel to date, crafted with a blend of premium cotton and renewable TENCEL™ Lyocell fibres. It's a choice that's perfect for transitioning to a more sustainable household, without sacrifcing a luxury feel.
---
The Zen Seeker - Luxury Retreat
For those who like to take a moment at bath time. You've powered through another long day and the moments spent in your bathroom have become a time to relax and unwind. The thickness of a towel and softness against the skin are key, and a muted, calming colour palette will help you to settle.
---
The Everyday Spa - Ultimate Indulgence
Life's too short for a towel that doesnt take its job seriously. If the day spa is your happy place and you like to recreate it at home, the Ultimate Indulgence towel collection is your ticket to finding that five-star feeling in your own bathroom. The Turkish cotton used to craft this collection is sourced from the Aegean area, which is renowned for its quality long staple cotton. Plush, absorbent and very thick (weighing in at 800 GSM), Ultimate Indulgence will help you to achieve exactly what the name suggests.
---
Found the collection that suits you best? Explore colours and sizes, and take your bathroom routine to the next level.