Finding the perfect quilt comes down to personal preference. Everyone's sleeping requirements are different and there is no one quilt to suit everyone. You should feel comfortable beneath your quilt from the moment you climb into bed, to the moment you wake each morning. Depending on your location, you may be most comfortable with different quilts for different seasons, or a quilt designed specifically for all season use.
There are several things to consider when choosing a quilt:
- What season do you plan to use it in?
- How warm is your sleeping environment?
- Do you suffer from allergies or have sensitivities to natural fibres?
- Do you require a quilt that can be machine washed?
Once you've answered the above, finding the perfect quilt is easy. Let's explore your options.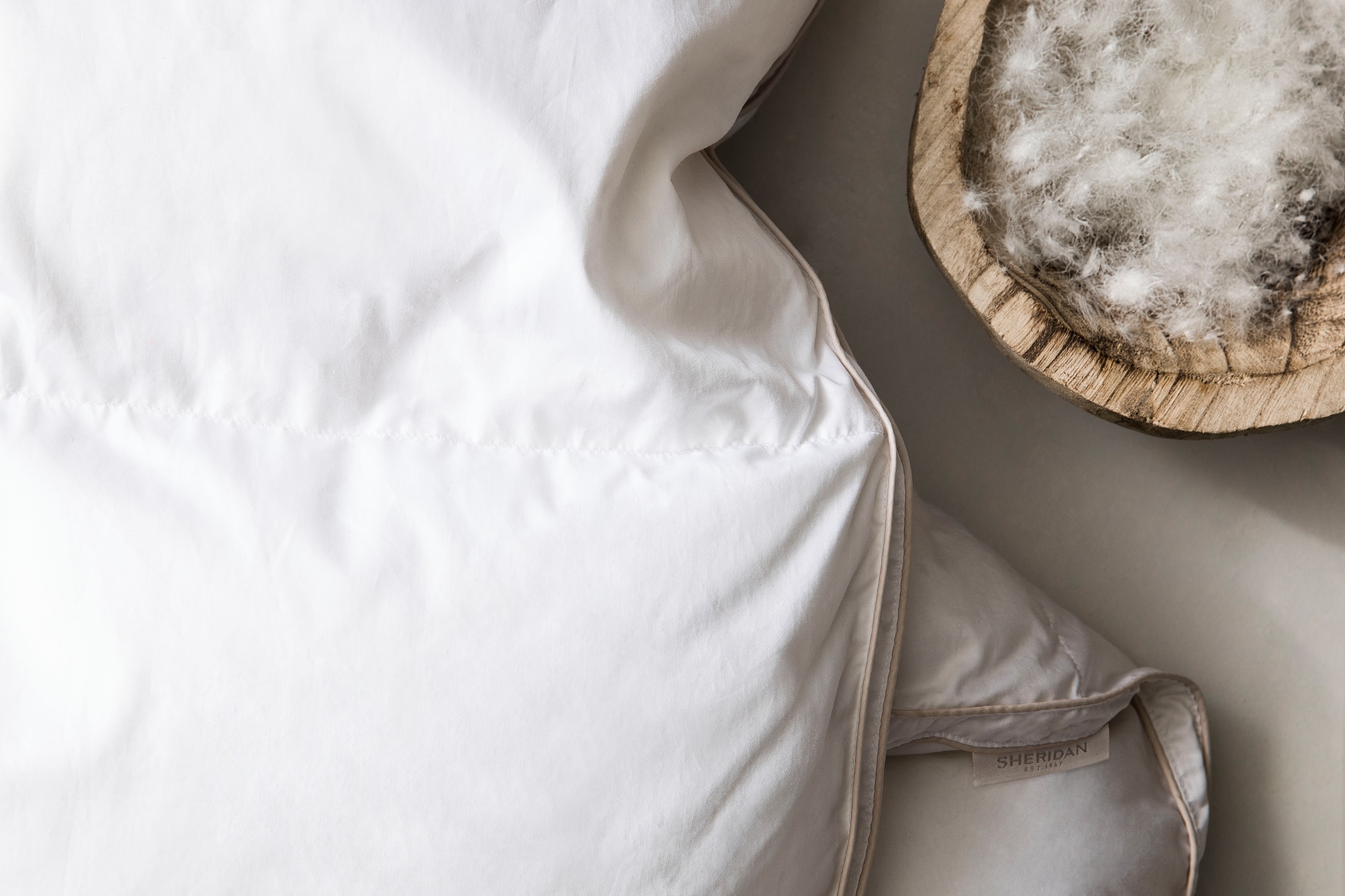 Understanding the Fill of a Quilt
Firstly, it helps to understand how the fill will affect the way you sleep. We craft quilts in a variety of natural and man-made fibres including feather and down, Australian wool, cotton and premium polyester. The fill will determine the level of warmth and the weight of the quilt.
What's in the fill?
Our quilts are filled with a variety of premium quality materials, natural and man made, with something to suit everyone.
Feather & Down: A natural fill, feather and down is breathable and lightweight, yet still warm and cosy. Down has the ability to contour to your body shape, ensuring even warmth in any sleeping position. The fill weight will determine the warmth of a feather and down quilt.
Australian Wool: Our 'superwashed' Australian wool is highly insulating, naturally breathable and helps to regulate body temperature for balanced warmth. The loft and sponginess of wool helps to maintain and control warmth.

Polyester: Premium quality polyester fibres offer maximum loft and fullness. Our polyester fill quilts have an antibacterial treatment, making them the perfect option for allergy sufferers.

Cotton: Cotton is naturally breathable and hypoallergenic, generally keeping the body cool rather than warm. Cotton fill quilts are ideal in warmer climates as they help to draw moisture away from the body, keeping you dry and comfortable while you sleep.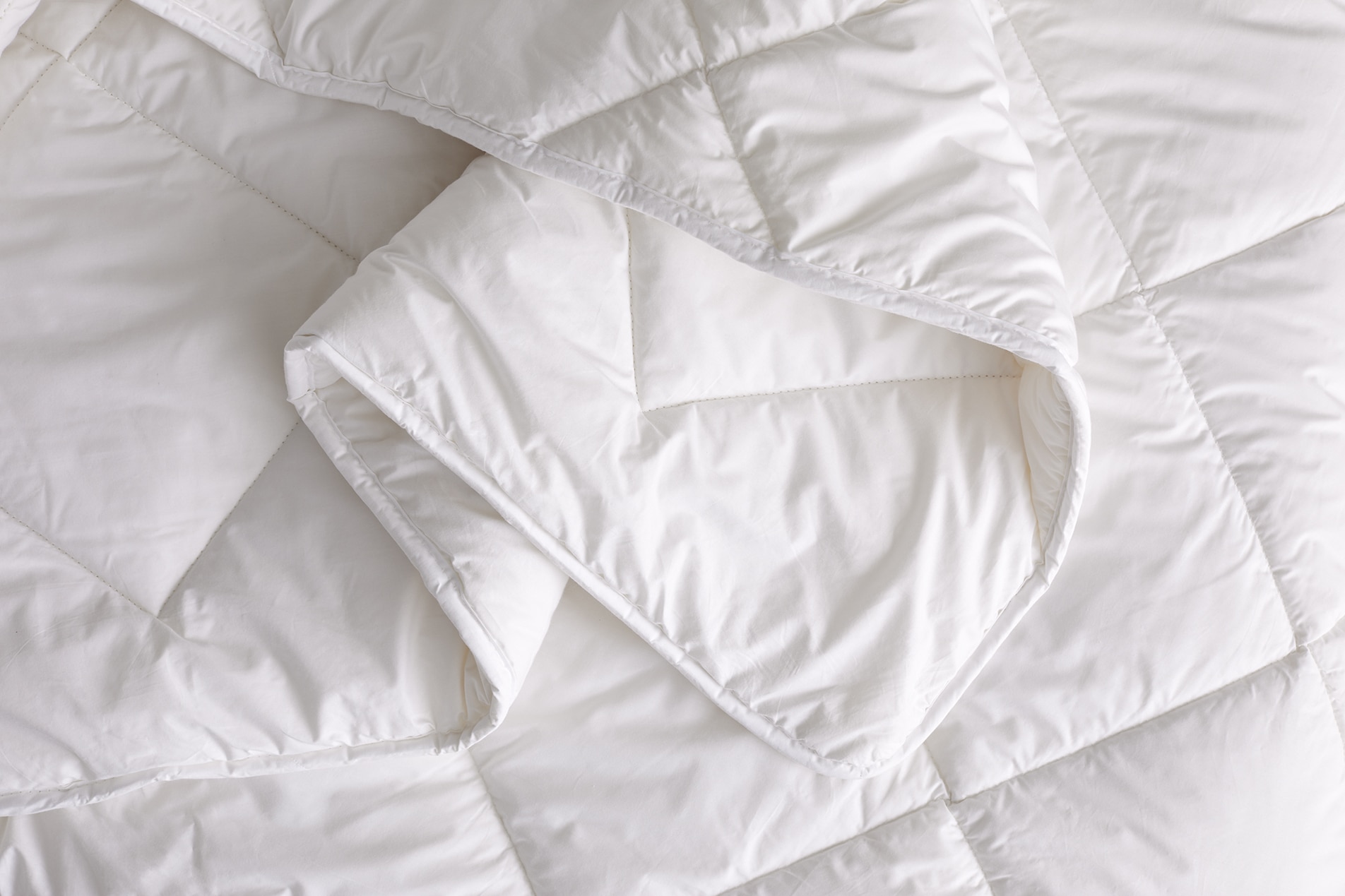 Warmth & Weight
How much warmth do you require to sleep comfortably all night? Do you prefer a lighter or slightly heavier weight on top? Decide on your ideal combination to find the perfect fill.
Warm & lightweight: Feather and down offers a super lightweight feeling, with plenty of warmth to keep you comfortable on cooler nights. It's the lightest and warmest natural insulator, expanding to fill a space which allows it to generate warmth without the weight.
Warm & heavy: If you prefer a heavier winter weight quilt, wool is a great option. Warm and cosy yet breathable, wool has the ability to regulate body temperature, which prevents overheating throughout the night. Not completely limited to winter, an all seasons wool quilt is perfect for year round use if you prefer the heavier weight.

Mid-weight & warmth: An antibacterial, polyester fill quilt is the perfect option for those who love the light feel of feather and down, but have sensitivities to a natural fibre fill. Premium quality polyester will give you a soft, down-like feel and an even spread of warmth that's suitable for all seasons.
Cool & lightweight: A cotton fill quilt is great for staying cool and comfortable in warmer months. Our quilts are finished with a breathable cotton cover for a light and airy finish.
When deciding which fill and weight is best suited to you, a good approach is to consider the quilt you're currently using. What do you like and dislike about your quilt? Do you want to feel warmer, cooler, cosier or lighter?
Caring for your quilt
Specific care guidelines for your quilt will depend on the fill type. You can read our Quilt Care Guide to learn about the best way to care for your quilt.
Size Guide
Single – 140 x 210cm
Double – 180 x 210cm
Queen – 210 x 210cm
King - 240 x 210cm
Super King - 270 x 240cm
Kids Single - 140 x 210cm