In our most recent collaboration, Sheridan's Head Designers joined forces with Jacqueline Hunt and Lisa Dempsey from Australian fashion label, Jac + Jack. The limited-edition collection focuses on the use of premium, natural fibres and celebrates the understated design for which Jac + Jack are known.
The first of its kind for both brands, this collaboration highlights design expertise, commitment to quality and a vision for a more thoughtful approach to dressing and living.
We got to know Jac and Lisa a little better as they shared snippets of their lives in the design world and at home; both in Australia and abroad.
---
What excited you most about collaborating with Sheridan?
Jac - When we met the creative team it was an instant connection, that doesn't always happen. We share many brand values, especially around being design lead and quality driven. We were very excited to have a brief that allowed endless possibility.
How did this collaboration differ to the others you've worked on over the years?
Lisa - From artists, to florists, ceramicists and sneaker brands; it's our first venture into bedlinen, and specifically collaborating with such an iconic Australian brand that is Sheridan.
How do your design philosophies align with Sheridan's?
Jac - We both value the creative process, we both have a commitment to quality and we are both on a journey to incorporate a responsible design ethos into our brands. We share refining and resolving our products, and we think our nuanced sense of colour and the time we both take to agonize over the perfect shade, is a shared obsession. We are very inspired by Sheridan's commitment to raw materials and development of fabric; it's something we would love to do more of.
We also share the love of how something makes you feel. Style is one thing, but we both know how important something is to touch and then in turn how that makes someone feel. This is a dream collaboration.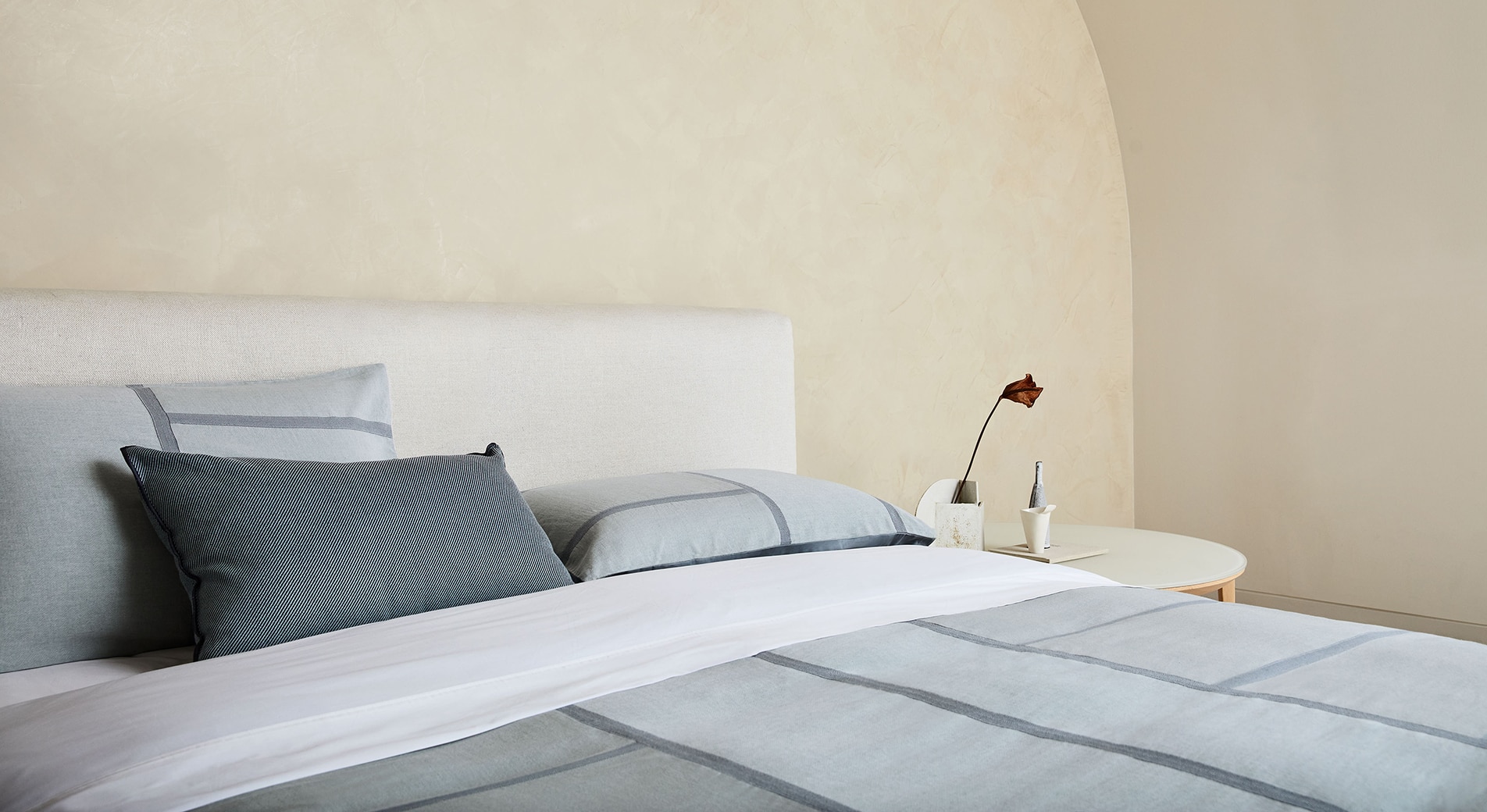 Why do you think it's important for brands to take a more considered approach when designing clothes or homewares?
Jac - It means that you can get to the heart of things, there isn't any surplus. While it takes time for a design to be resolved, the reward is something quite special, because it's pure and simple. Although that journey takes time, often we discover new and interesting ideas, having a process is essential to creativity. In a time when minimising waste is on everyone's mind, being considered allows us to be more relevant, targeted and for things to be more meaningful. Both of our brands share this philosophy, we move pretty slowly through our creative, design and making process; but the end result is hopefully something really lovely and very special. Being considered means you can ensure each piece has value and is as necessary as it can be.
How do you approach getting dressed in the morning?
Lisa - Hurriedly with as little effort as possible. Always a knit or shirt, back with our new season pant, all day long…any day of the week.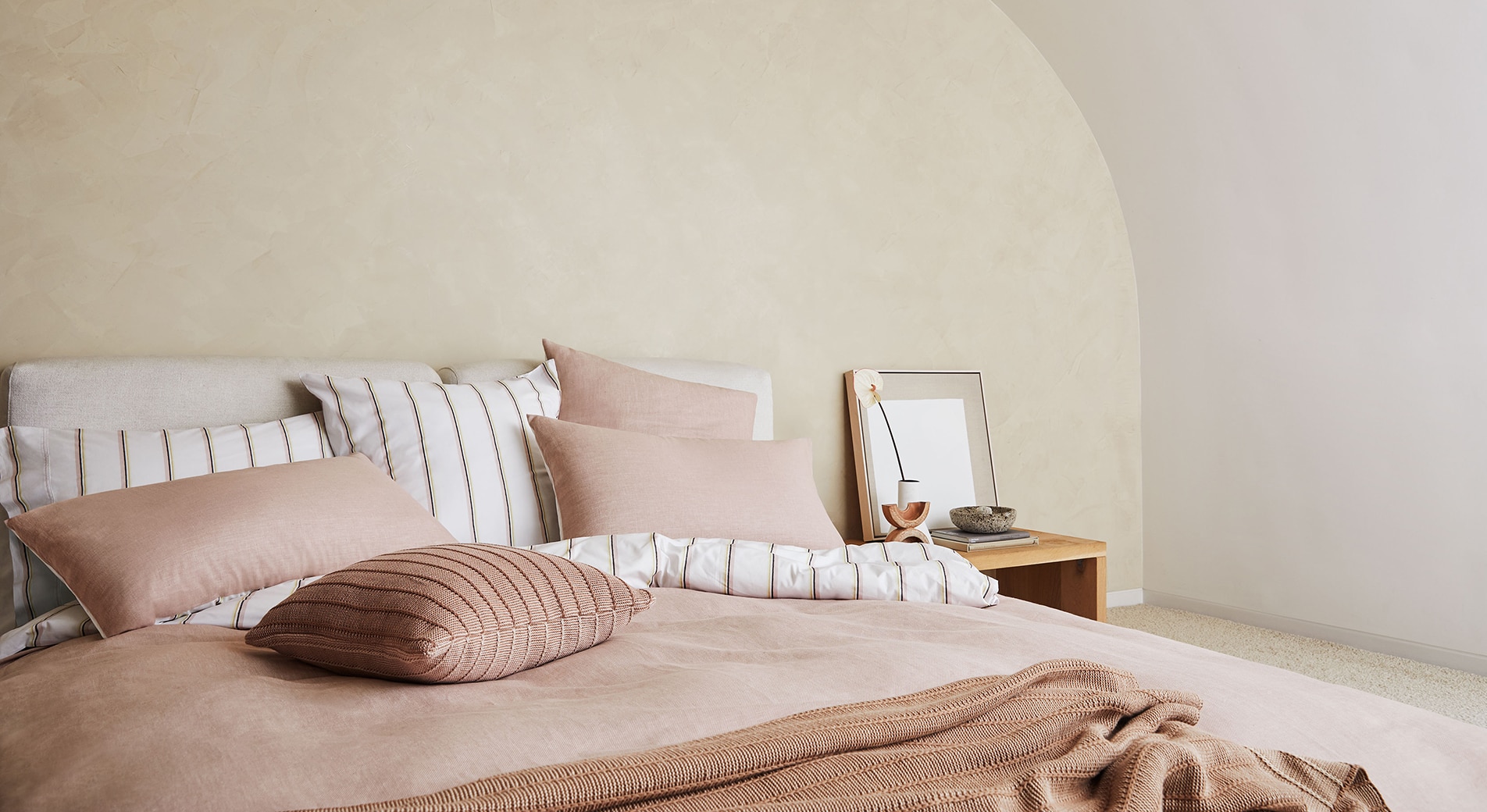 What's your preferred colour scheme for the bedroom?
Jac - I love pastels and any kind of bleached colour situation, washed back lilacs, bleached eggshell, white washed lemon. I like them tonally or all together. That's why I love our two colour ways that we've created with Sheridan; sugar bleached dusty pink and washed back steel sea green. They are unusual but very easy and beautiful.
Plain dye or pattern?
Lisa - I go for plain which underpins everything, but I love mixing in a bit of pattern, and texture.
What's your best tip for living more sustainably at home?
Jac - We worked through each room over time with a much more sustainable mindset and we set goals like no more plastic. The bathroom and kitchen were the hardest, but we made some lovely discoveries like Indian tiffan tins as a replacement for plastic containers. It was great because you have to find creative ways to solve issues. Choosing great quality over quantity is a good place to start, quality lasts and usually washes and wears so well.
Also try and live simply, you don't need an over supply of anything. I approach my wardrobe in the same way. Bite sized pieces is the approach as you can't change it all overnight. The attitude to live more sustainability is one that requires commitment, creativity and time; but is absolutely well worth it.
Jacqueline Hunt (left) and Lisa Dempsey (right) alongside Sheridan Senior Design Manager, Rebecca Burnard.