Up to March 31, any online donations to SleepSafe will go directly to regions and community partners affected by the devastating flooding in Queensland and New South Wales.
Our Story
SleepSafe is a non-profit initiative by Sheridan and StreetSmart, raising much needed funds to help support those without a safe and secure place to call home.
SleepSafe supports grassroots, community-based organisations by providing localised grants to shelters and vulnerable support services. We believe that housing is a basic human right and raising funds for local emergency accommodation services and bedding products is integral to ensuring that all Australians have a safe place to sleep.
When you donate to SleepSafe, you're contributing towards a sleep kit — containing a towel and sheet set. With every $15 raised, a complete sleep kit is provided to someone in need. All sleep kits will be sent to the shelters that need them most, providing financial relief and allowing for funding and donations to be diverted to other areas of need.
"You can never underestimate the benefits of having clean bed linen, a fresh towel, a shower and a bed to sleep in for the night. The worst day of someone's life can turn into the first day of the rest of their lives with the simple comforts of home and a safe night's sleep."
— Paul Gould
Group General Manager, Sheridan
Sleep Kit
HOW YOUR CONTRIBUTION IS MAKING A DIFFERENCE
Each sleep kit contains one towel, one sheet set with a flat and fitted sheet and a single pillowcase.
These kits are manufactured in partnership with our Sheridan suppliers. StreetSmart works closely with refuges to ensure the kits are distributed where they're needed most.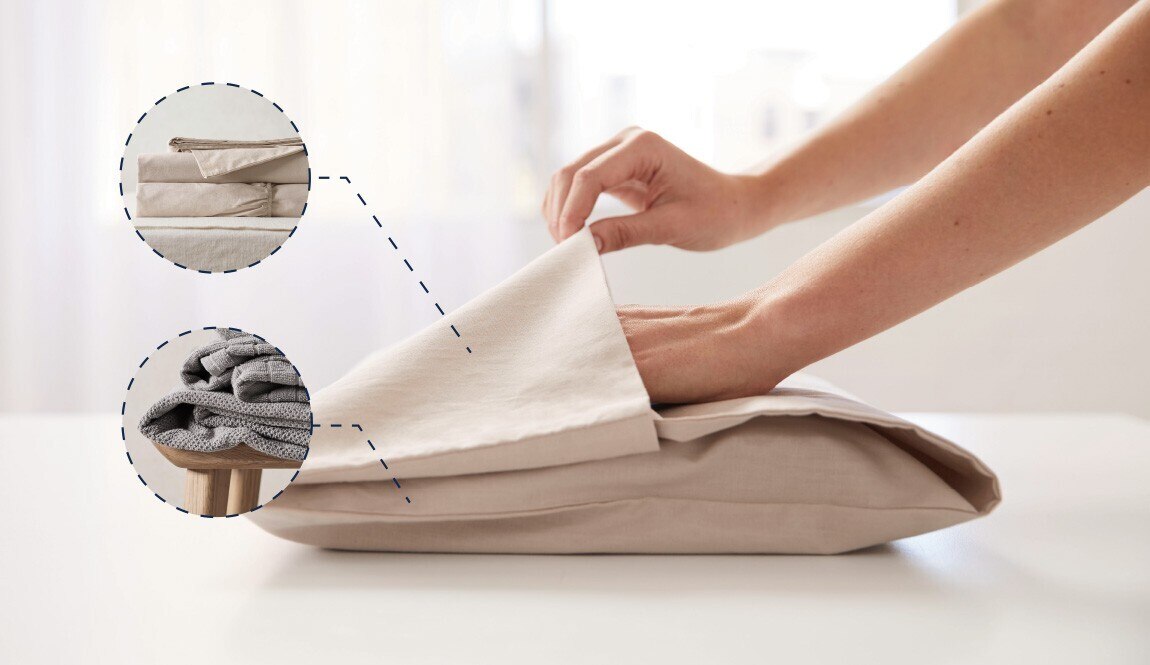 *Final sleep kits may differ in appearance
From our local shelters
Messages of gratitude from some of the shelters who have received sleep kits.
"Every day we receive orders from our support agencies requesting bedding for vulnerable families. Sometimes the family may have had to flee family violence with not much more than what they're wearing; other times it might be a family facing homelessness through financial circumstance or hardship...being able to give them the security of their own bedding to use in either temporary or more permanent accommodation is such a gift."
– Mums Supporting Families in Need (VIC)
Transparency
How your donation works
Our suppliers, WELSPUN GROUP and NISHAT CHUNIAN GROUP, have shown their support for the SleepSafe initiative by manufacturing sheets and towels with excess fabric. They have subsidised these products, allowing us to supply them to shelters at the cost outlined below.
PRODUCT
Product
costs
Freight &
import costs
Warehouse handling
Domestic freight
Total cost
(AUD)
TOWEL ($)
1.40
0.30
0.41
1.00
3.11
SHEET SET ($)
7.80
2.68
0.41
1.00
11.89
TOTAL ($)
15.00
*Note 2% merchant fee is included in this cost. All monetary donations go directly towards providing a Sleep Kit.
Product
Towel
($)
Sheet Set
($)
Total
($)

Product Cost

1.40
7.80

Freight & import costs

0.30
2.68

Warehouse handling

0.41
0.41

Domestic freight

1.00
1.00
Total Cost
(AUD)
3.11
11.89
15.00
*Note 2% merchant fee is included in this cost. All monetary donations go directly towards providing a Sleep Kit.

ABOUT STREETSMART
StreetSmart is a charity that empowers local communities to raise vital funds and awareness for people experiencing, or at risk of experiencing, homelessness. They operate at a grassroots level to seek out, support and partner with small organisations and projects in the communities where funds are raised.
StreetSmart believes that housing is a human right, and that every Australian deserves a safe place to sleep.
"We see our partnership with Sheridan as a great opportunity to partner with an iconic Australian brand, with the potential to transform our impact on the community.
"We believe in developing a strong and meaningful partnership with reach and local impact, in the communities where Sheridan operates, acknowledging homelessness happens anywhere and everywhere."
— Geoff Hills
Chief Executive Officer, StreetSmart Australia
Donate & help to provide a sleep kit to someone in need