What Is Jacquard Matelassé? How To Style White Weaves In Your Bedroom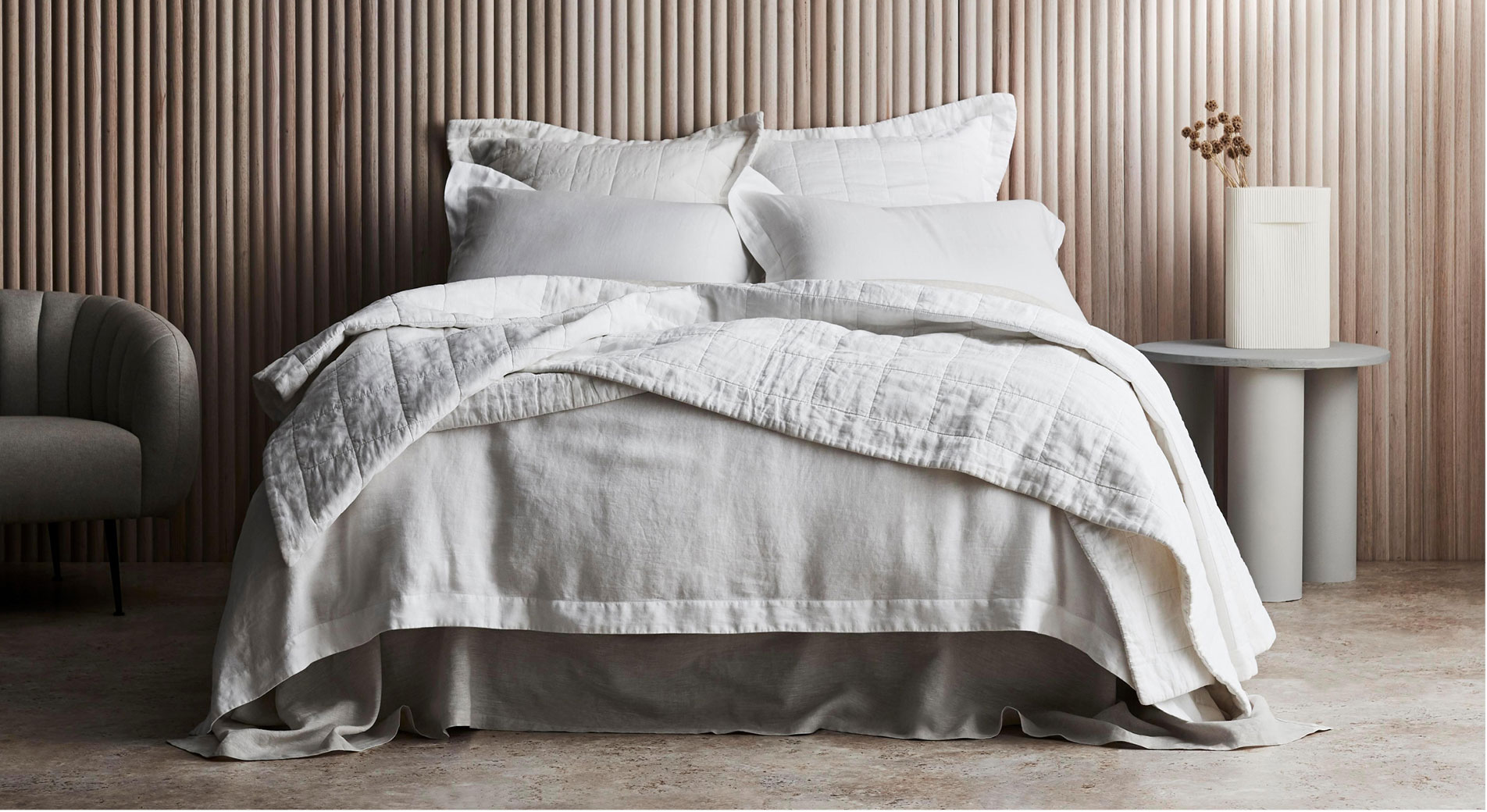 What comes to mind when you think of the colour — or if we're being pedantic, the shade — white? 
Perhaps you think of a crisp, clean white button-up; a classic option. Maybe it's a cooler white, something calmer and serene. Fluffy white clouds in the sky on a spring day, or a slippery silk dress. A warmer white can bring warmth, the soft glow of a dim light bulb, or even the sand of Whitehaven or Hyams beach.
Regardless of exactly what shade of white comes to mind when recalling the colour, there's no denying the versatility the colour white has — the ideal neutral. Or, the perfect starting point when it comes to styling your bedroom.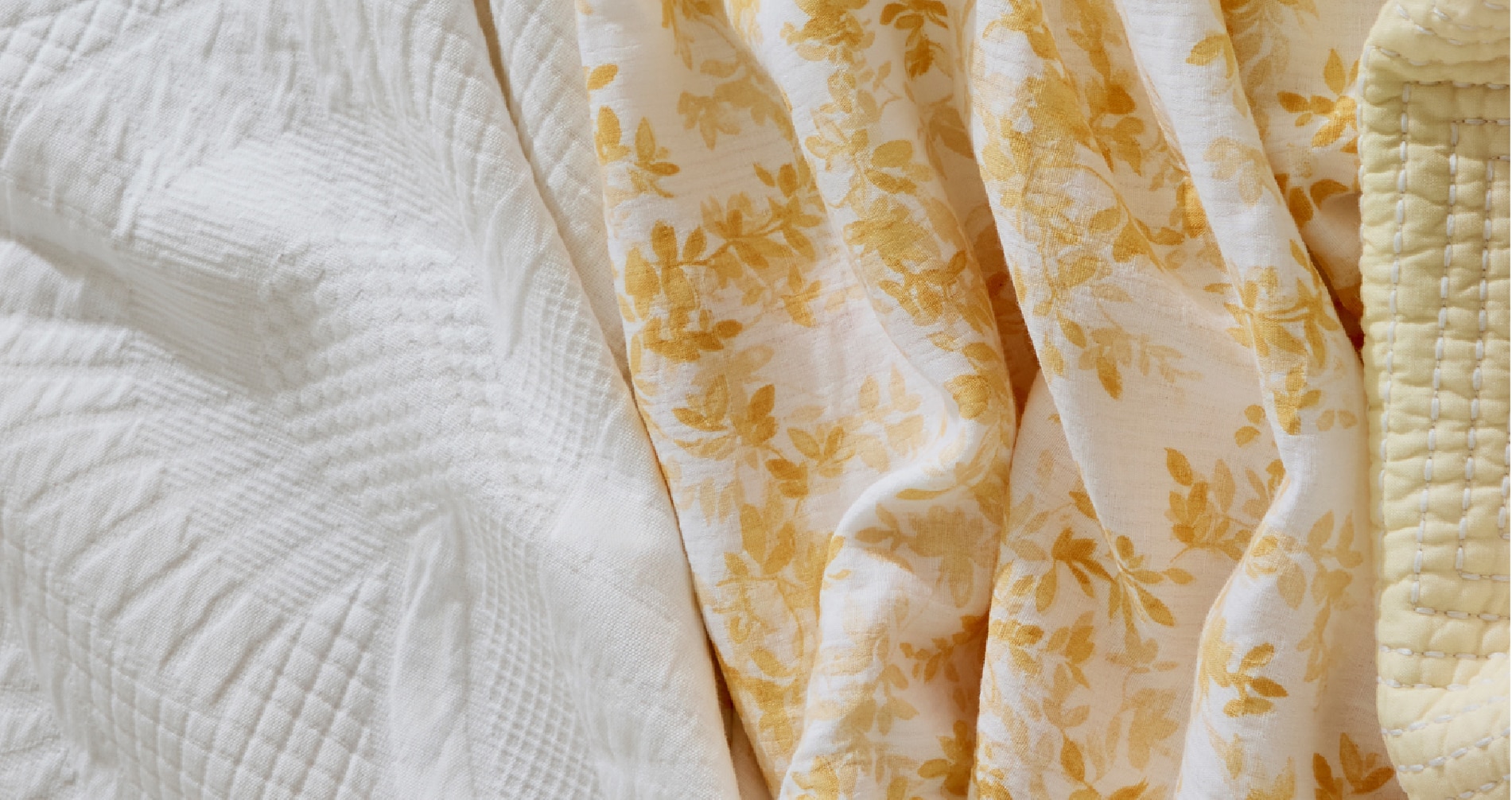 There are those that may think the colour white is boring or uninviting. To those we say, incorporate textures, weaves, layering — look to a jacquard matelassé, like our Upton Collection.
Our Upton Collection is crafted with a jacquard matelassé panel weave, that offers refined surface texture. If you're wondering exactly what is a "jacquard matelassé", Sheridan Life has you covered. 
Jacquard is the name of both the process and the mechanism, but it's a type of weaving invention that allows more complicated and detailed patterning through the weave. With it, you can create edge to edge patterns design, without any repeat.
And matelassé is a technique, using thick "stuffer" yarns that yield a texture, or a pattern, that appears quilted or padded — mimicking the style of hand-stitched quilts from Marseilles. Essentially, it's pattern that you can feel. So when you have a jacquard matelassé, you have something with an exquisite, raised textured pattern. 
Whether you're modern, minimalistic, rustic or traditional, or prefer another aesthetic altogether, our white weaves lend themselves to a plethora of styling opportunities.
---
1. 
Layering Buttery Yellows With Upton
The Upton Quilt Cover, Pillowcase and Euro Pillow all boast an exquisite pattern, and unique surface texture — a one-of-a-kind panelled design, illustrated by one of our in-house artists.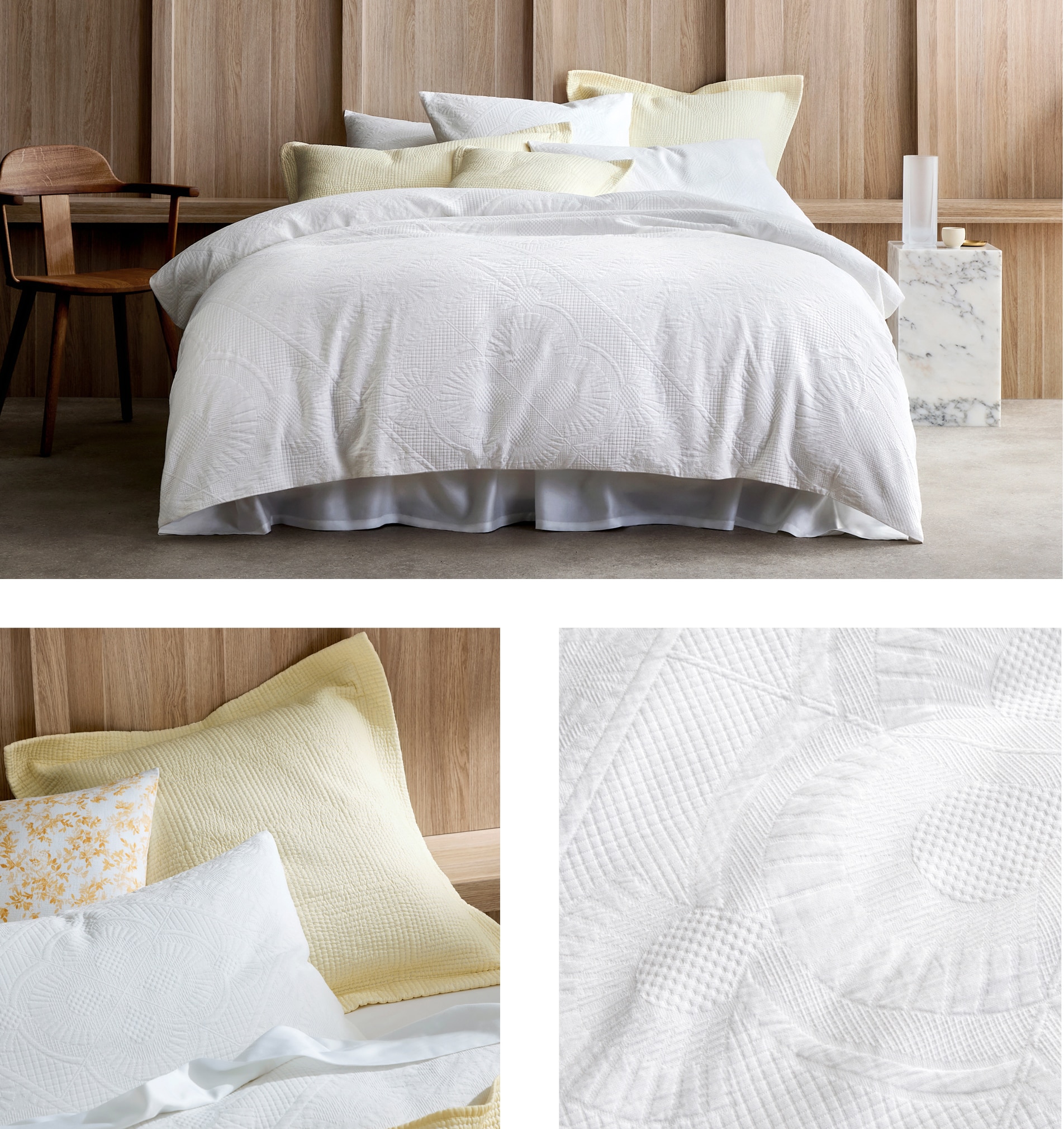 Introduce softer shades and pastels, in dreamy, sunshine yellows. Pick a playful texture like our Beechwood cushion, or a sweet print like Naves.
Styling with white weaves can never be boring when they're presented like this; an interplay of textures and weaves and fine detailing. 
2.
Monochrome Accents with Freemont
Inspired by organic surfaces in nature, Freemont utilises a classic white weave with a soft, textural finish. Layer with monochromatic accessories.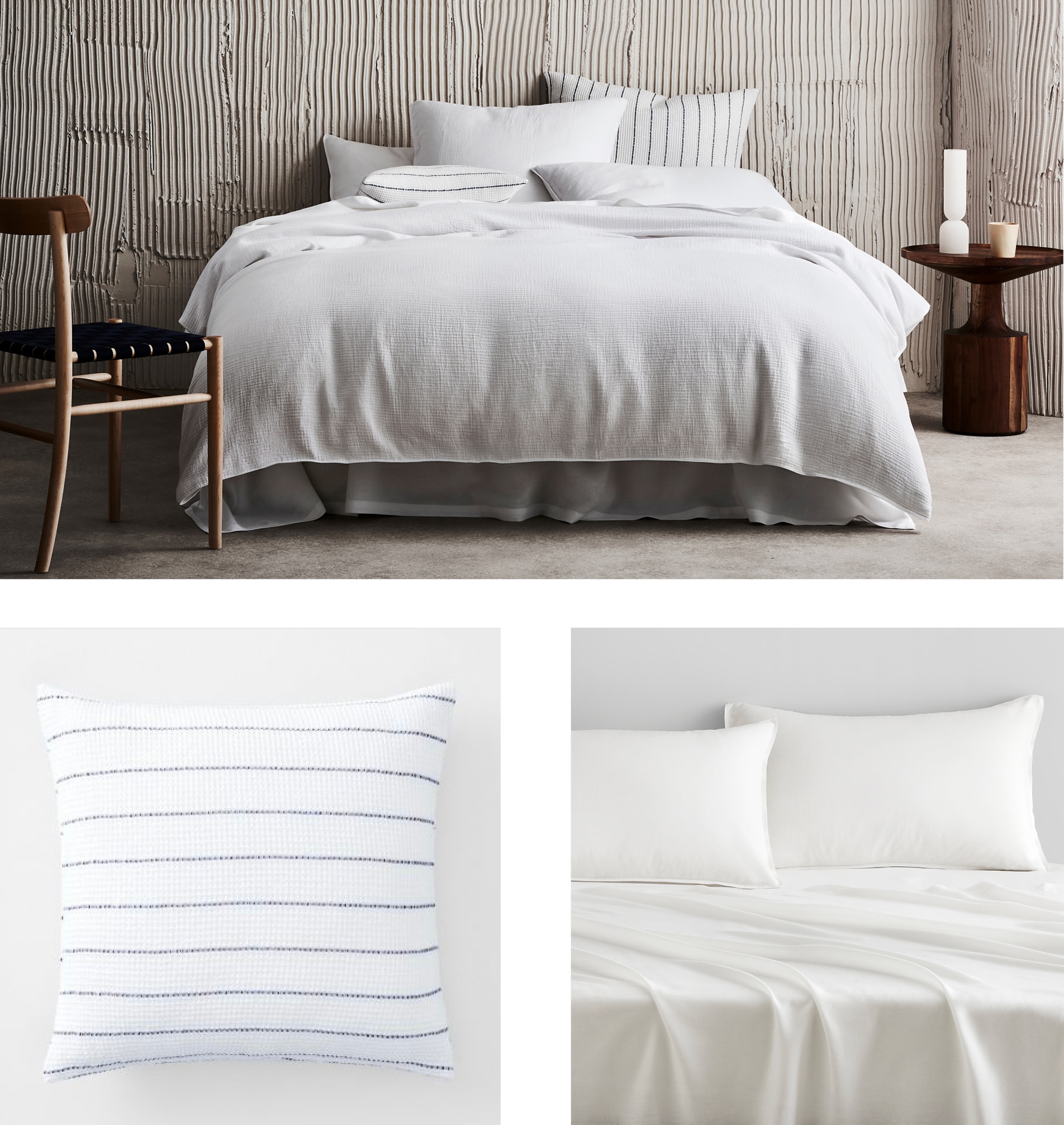 A cotton waffle weave with a dark pinstripe detail, Morillo makes a statement on an all-white bed.
In a cool, crisp white, SupersoftLyocell Linen sheeting is smooth with an elegant drape — contrasting with textured weaves.
3.
Sophisticated Paisley with Dalbury
Timeless yet decorative, Dalbury juxtaposes paisley with a simple grid pattern. Play with throws and cushions in various textures, for a unique look.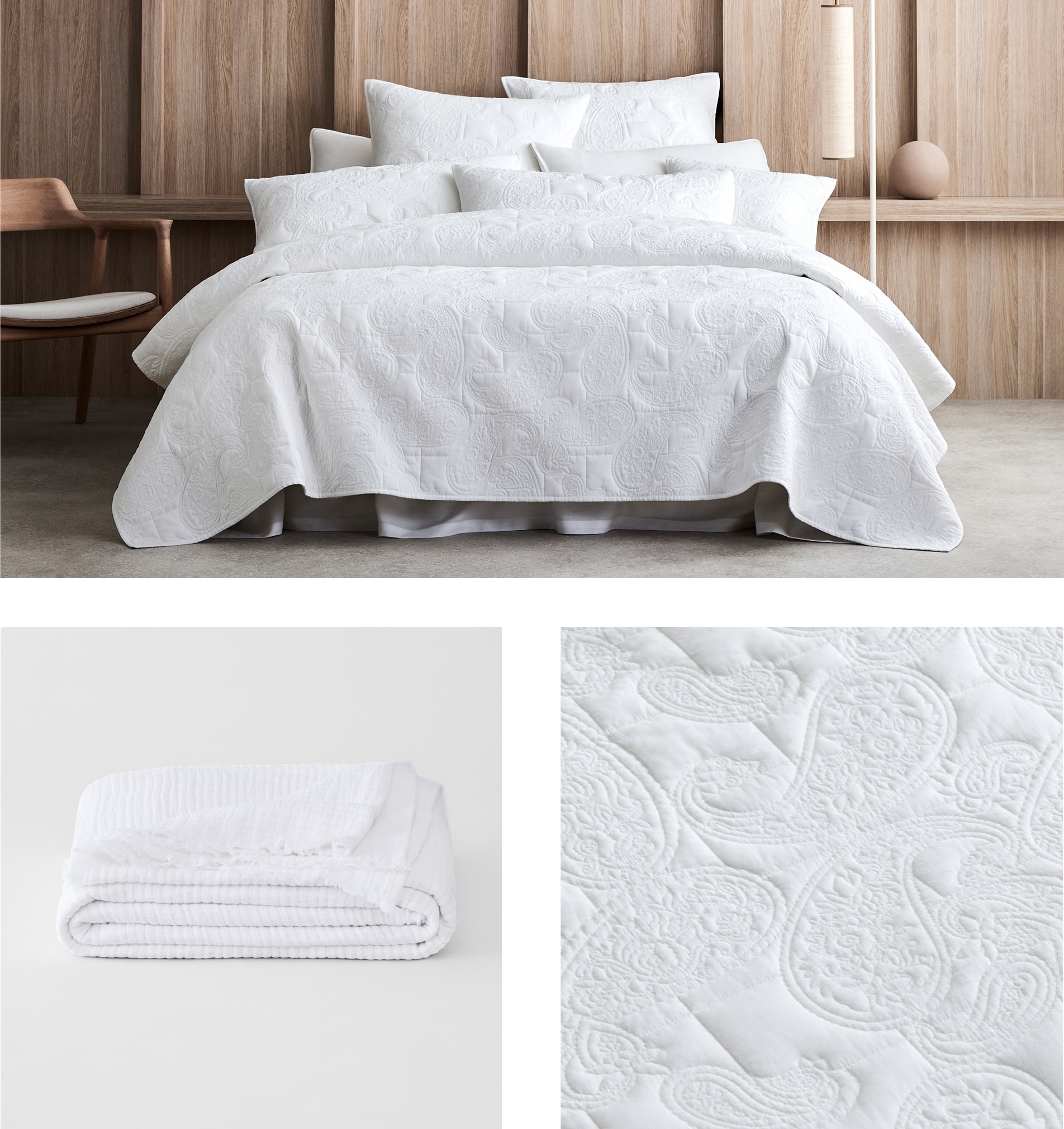 For a simple, stylish addition to your bedding, the Naville Throw adds a woven ribbed texture.
Distinctive and intricate, the Dalbury collection features a quilted pattern of over-scaled paisley motifs.