How to Style This Season's Trending Colour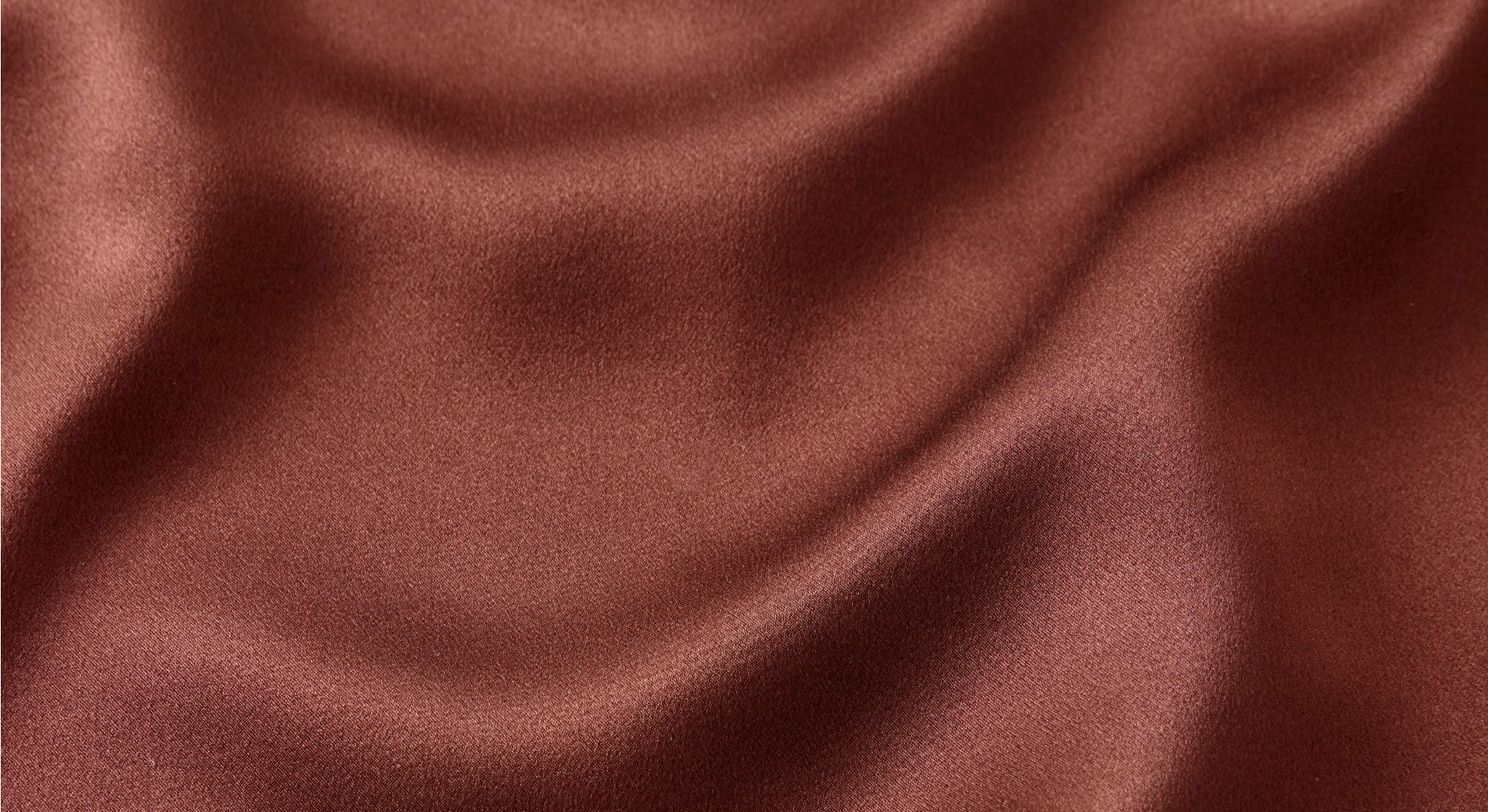 Bringing justice to brunettes everywhere — sorry blondes, but you've long had your moment to shine — brown is this season's trending colour, set to become a new neutral.
Seen on runways throughout fashion month, Emilia Wickstead and Tibi utilised the shade 'Dark Oak'. An alternative to black, brown is both sophisticated and rich. The Zoe Project and Refinery29 called brown out as the fashion colour of the season, helping everyone who's ever wondered "How do you style brown?"
Over in our interiors world, Vogue and Architectural Digest say the hue is having a "resurgence", including when it comes to bedroom styling.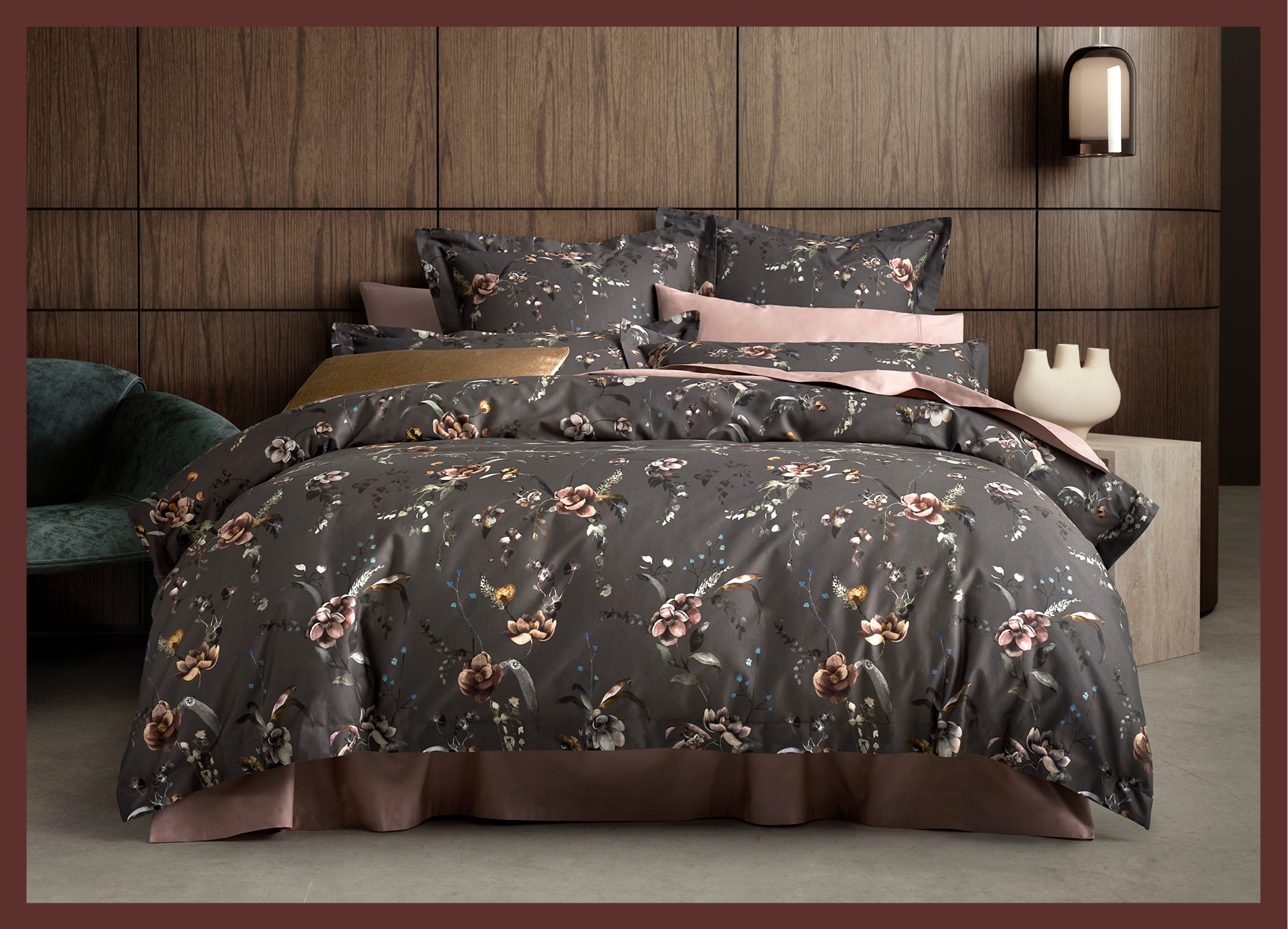 Although this woodsy colour is trending, brown also has some retro connotations for those of us who lived through the 90s — even more so for those in the 70s. It's not much of a surprise that styling with brown is constantly revisited; according to colour psychology, the shade appeals to our sense of safety and solidity.
Why? It's due to its earthy association — from sandy browns to terracotta, cumins to cocoas to clays.
This nature-inspired hue can be seen across our latest collection, particularly in the shade bitter chocolate. While bitter chocolate may not be the first thing you reach for when you're feeling a little nibbly, it should be the first shade you reach for when it comes to styling rich colours — and is ideal for a brown bedroom aesthetic.
---
GET THE LOOK
If you're looking to dip a toe into the world of chocolate — metaphorically, of course — and wondering how to style brown, we recommend beginning with home decor. Carefully placed cushions, whether styled on their own or as part of a layered affair, is an easy way to incorporate the lush colour throughout your home.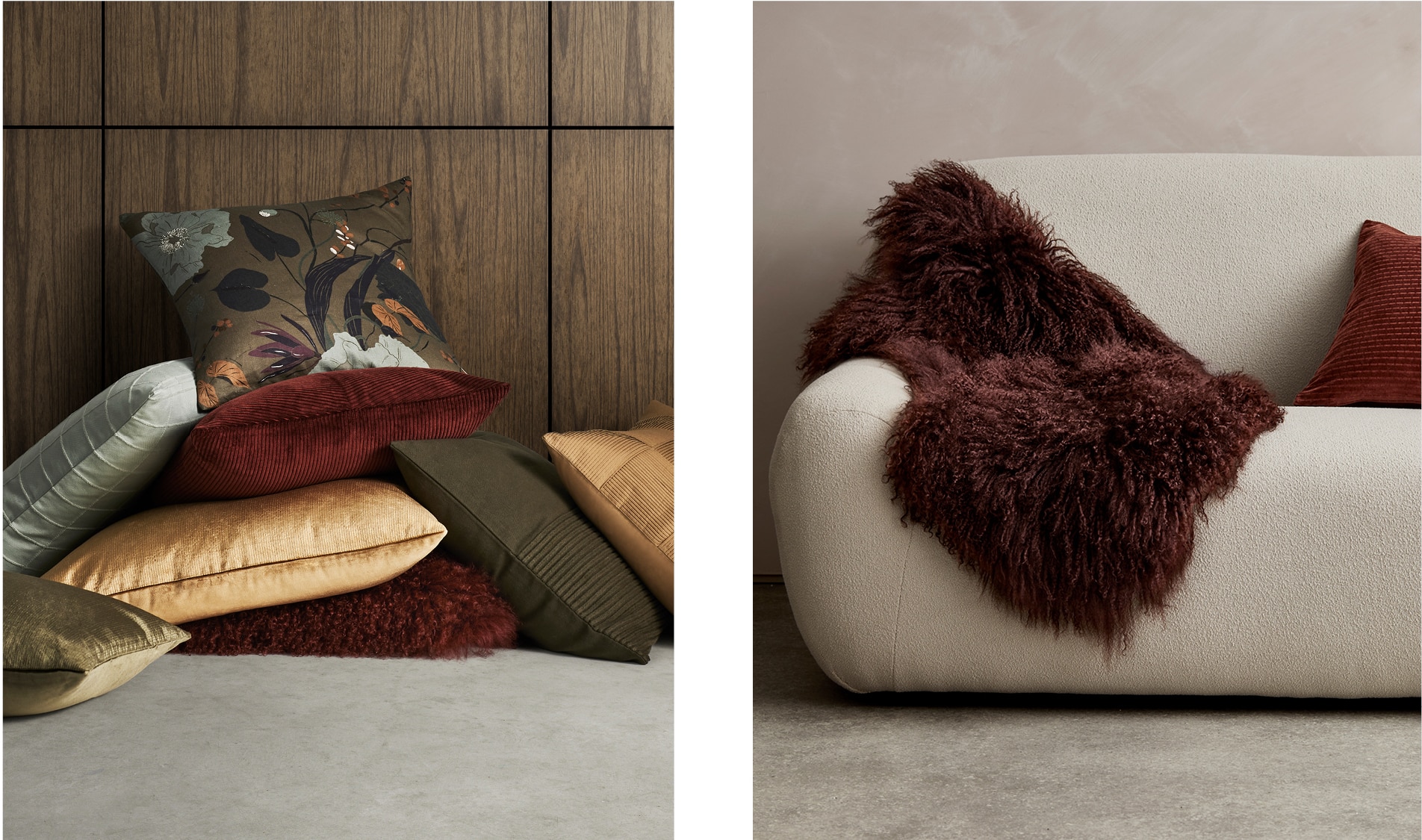 Make a statement with the Bligh throw, crafted with luxuriously soft Mongolian sheep fleece. Our Lanham silk pillowcase, made with quality Mulberry silk, is a perfect finishing touch.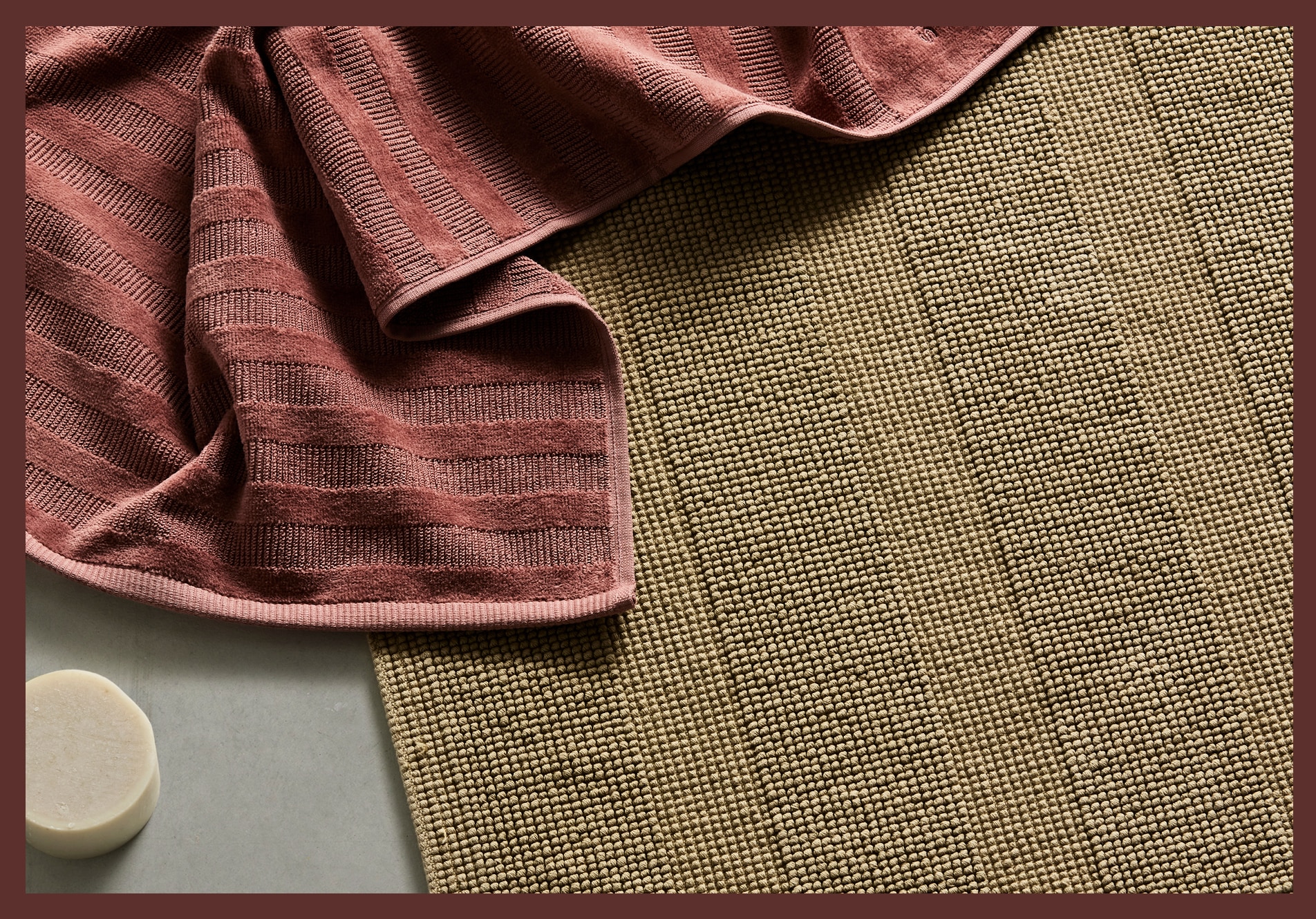 Another thing to remember about this decadent shade is that it pairs with a surprising amount of other colours, making styling a brown bedroom easier than originally thought. Whether you're a fan of primary colours, jewel tones, or other neutrals, bitter chocolate makes for the perfect base — complementing all other choices.
Up-and-coming fashion designer Feben played with this palette during fashion week; dark-based florals utilised a brown base, with pops of contrasting colours coming through the use of florals — a refresh to a timeless shade.
And closer to home, we've done the same, with our striking bedding offering, Santi. With a tinted dark ground of bitter chocolate, warm watercolour blooms and contemporary blue botanicals add colour, and act as a point of juxtaposition.
For those who are wanting and willing to fully immerse themself into the world of chocolate — not unlike Willy Wonka and the Chocolate Factory — Santi is the ideal jumping off point. It's the perfect answer to the question of how to style brown bedding.
With a swathe of sumptuous shades incorporated throughout the print, it lends itself to a variety of styling opportunities. Start with other shades inspired by nature, like pastel-dusted taupes, smoky shades of pink, spicy cumins and olives.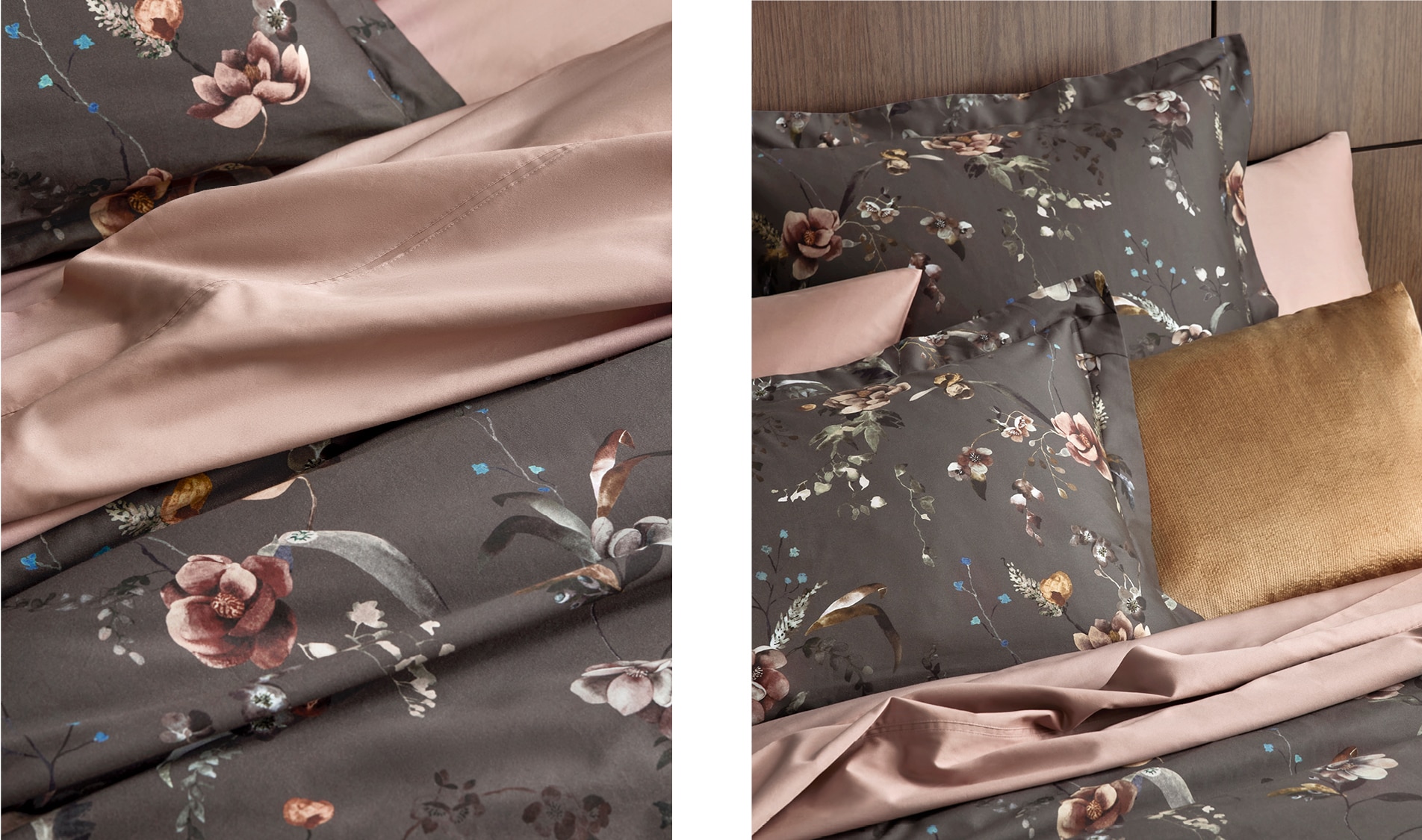 ---
Ferran, in a light shade of blue, brings out the blue botanicals that are scattered across Santi — the fine blooms are actually printed on the reverse in a tossed design, for additional styling options. A surprising colour combination, Architectural Digest report that blues "really sing" when paired with brown.
These are just some simple ways to style a brown bedroom, an easy how-to of sorts regarding this warm, trending shade.