3 Tips for Mixing Patterns & Designs in Your Bedroom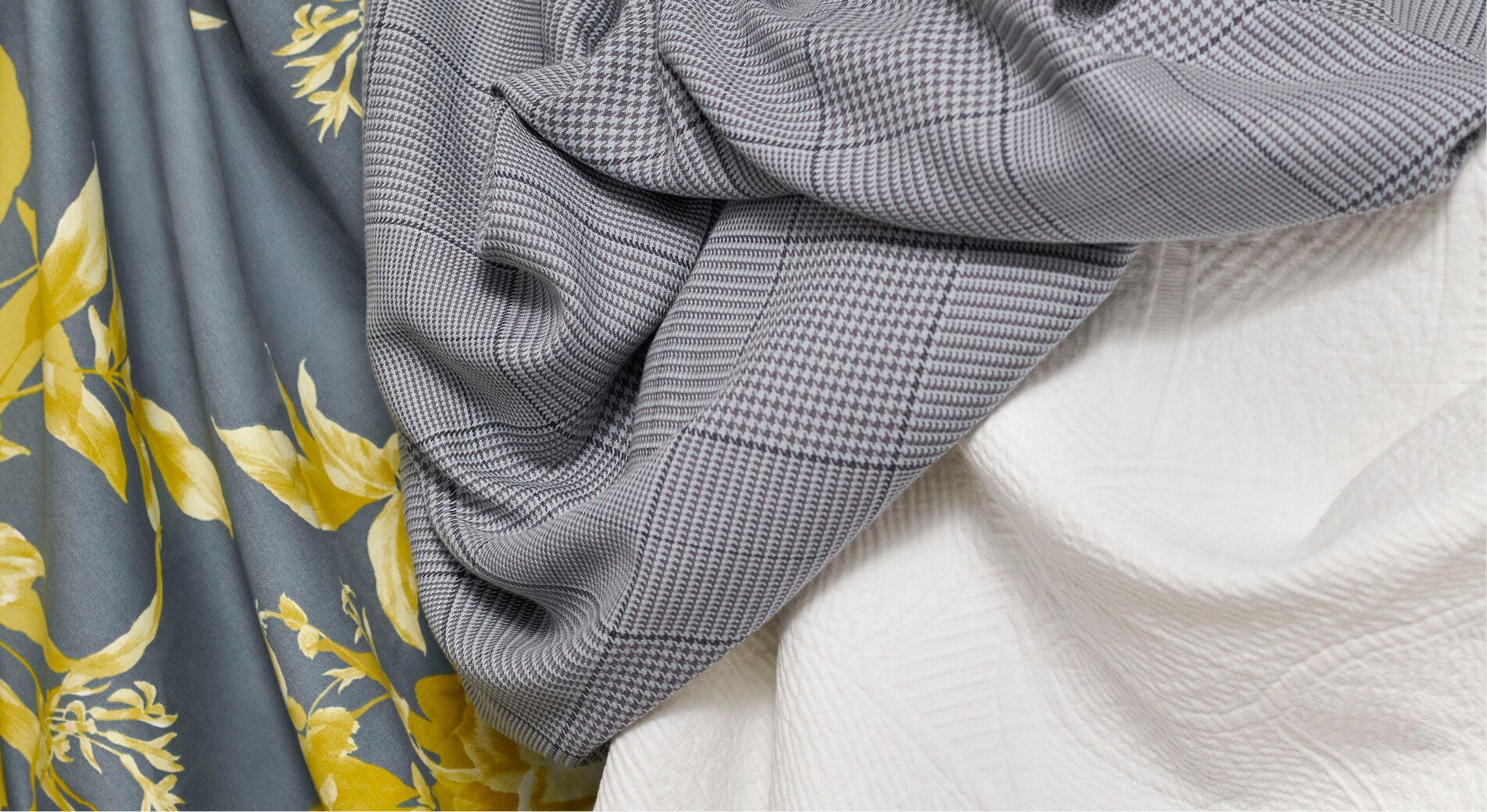 From clothing to home interiors to bedding, it seems like there are definitive rules when it comes to mixing patterns. There's the "60/30/10" approach — which advises you to stick to 60% of a favourite pattern, 30% of a secondary pattern, and then the remaining 10% as an accent. Even Buzzfeed laid out ways to go about it clothing-wise, back in 2014.
As you may have guessed, we're less about rules than we are about throwing out the rulebook. From styling linen bedding in clashing colour combinations to letting imagination reign supreme across our kids bedding, we're here to provide styling options and inspiration, not to dictate.
In fact, our latest season is all about the Harmony of Contrasts, where styling is carefully considered while still feeling fortuitous — and unexpected. And mixing contrasting patterns and designs in your bedroom, on one bed? That's definitely unexpected. Read on for a few handy tips on how to style patterned bedding.
#1 Tip on Mixing Patterns: Masculine & Feminine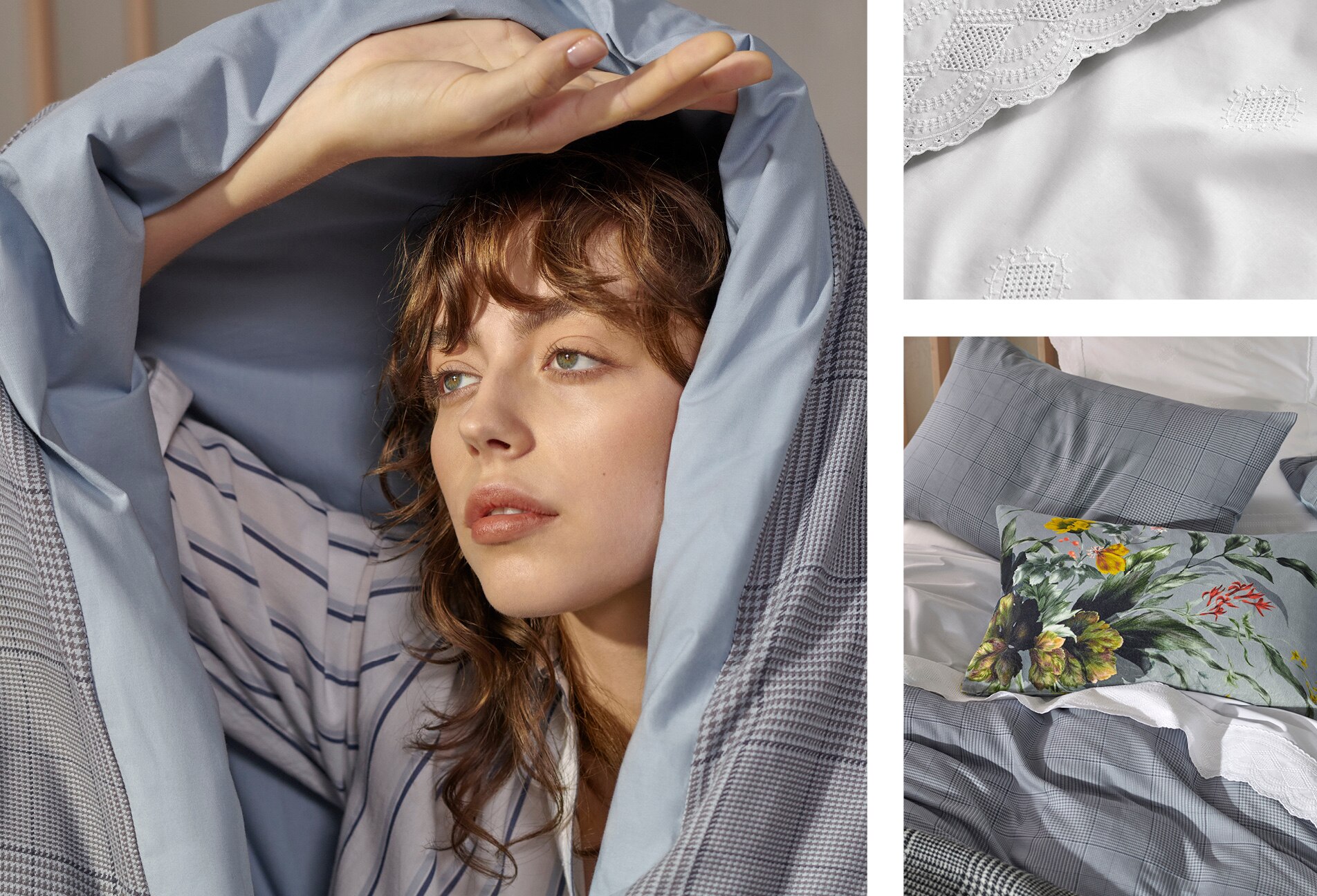 Androgyny exploded in the fashion world with the rise of model Agyness Deyn, and it's still a fashion trend over a decade later. And in homewares — specifically bedding — the line between masculine and feminine is constantly shifting; flirting with it leads to elegance with a touch of eccentricity. Think a tailored look that mimics a sharp suit with a ruffled blouse; something a little bit dandy — a little bit Harry Styles.
Think Bolton, a reinterpreted Prince of Wales Check with a timeless design like Mansfield; the latter boasts stereotypically "feminine" elements like decorative lace trim and embroidered details. Pairing these two ends of the spectrum together challenges norms of interior styling, and makes for a distinctive, versatile look.
#2 Tip on Mixing Patterns: Same Pattern, Different Scales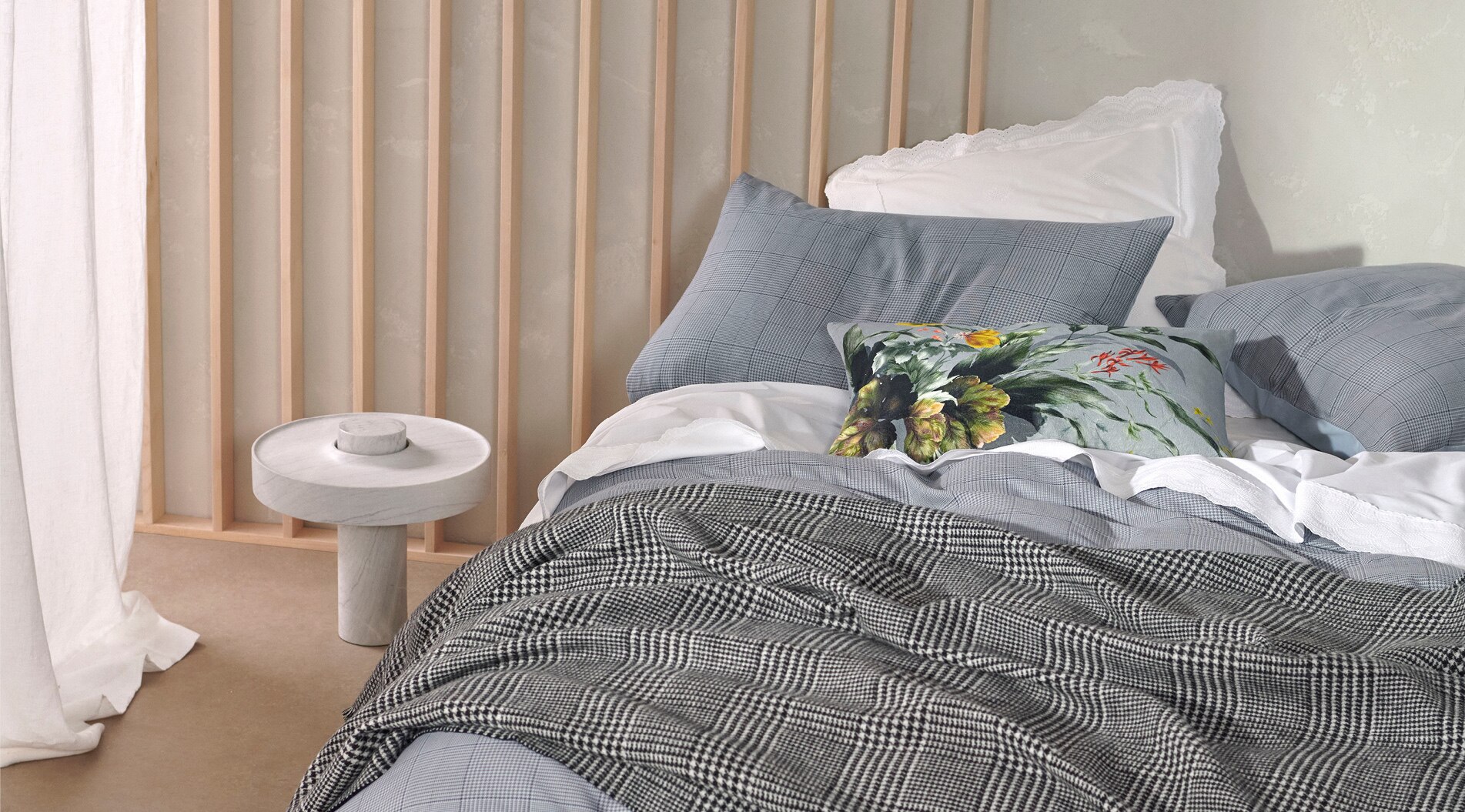 If you're wondering to yourself what patterns go well together — well, might we recommend the same pattern, twice? It's not quite as easy as it sounds, but don't stress, we'll guide you through it.
To get a pattern-on-pattern working together without issue, we recommend making sure they're of different scales. So mini-spots with larger ones; small detailed florals with big, abstract blooms; bold colour-blocked stripes with fine yarn-dyed ones — you get the picture. Playing with different textures as well, for an additional point of contrast, is helpful here.
Bolton, a piece we've discussed with its Prince of Wales check, pairs well with… you guessed it, another Prince of Wales check like the Briones throw. The checks are one, of different sizes; two, of different colours and three, they're noticeably different textures — one a cotton yarn dye, the other 100% wool.
#3 Tip on Mixing Patterns: Different Patterns, Similar Palette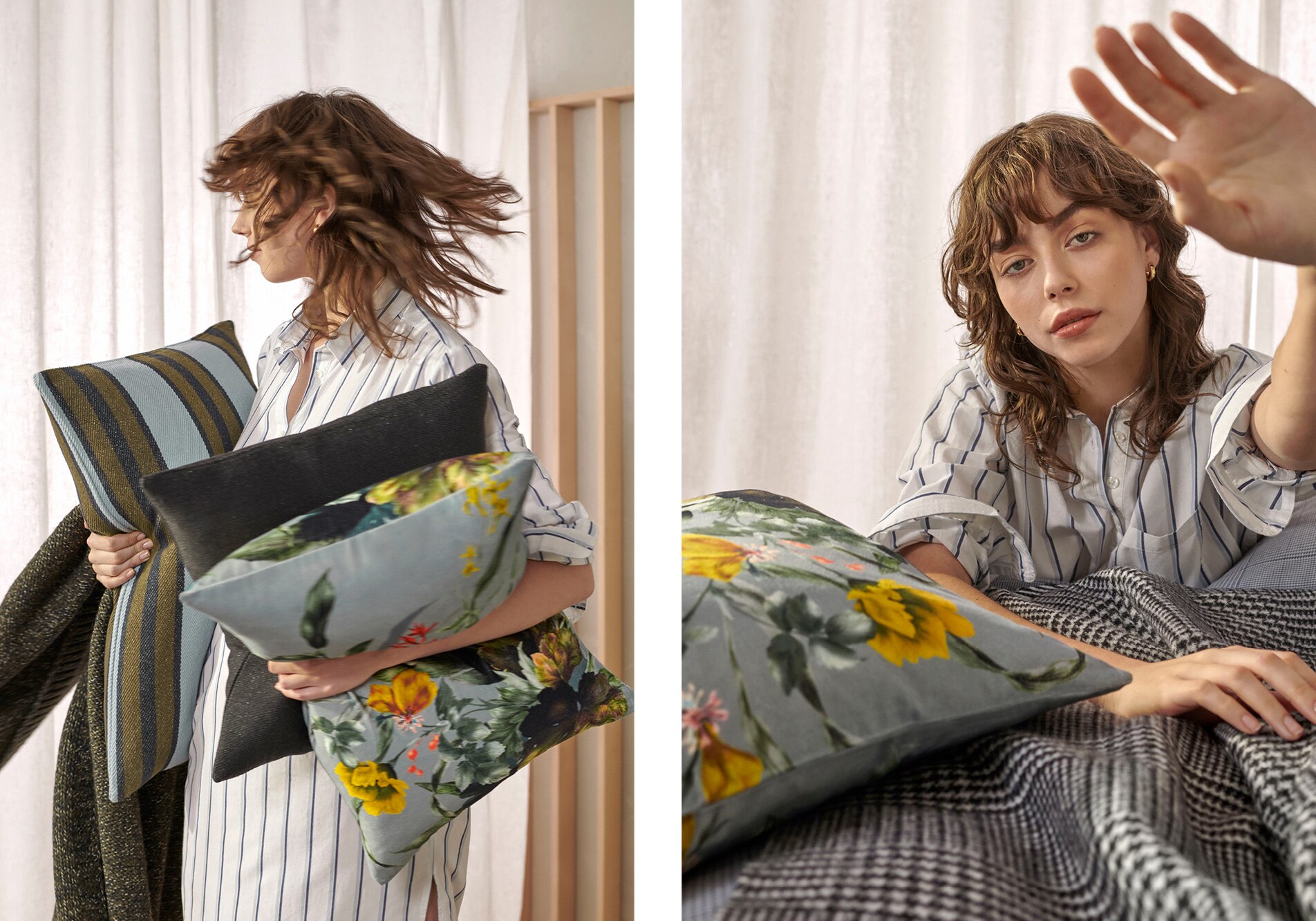 At Sheridan, we love to layer; it's a simple way to mix patterns and add character to a space. This is especially true if you're renting, and limited to what you can do in the realm of interior styling. A really easy way to update your interiors — and, yes, styling patterns, on your bedding or elsewhere throughout your home — is through home decor. We're talking cushions, everyone.
In this instance, looking for a similar colour palette across your different patterns will automatically make different patterns go well together. You don't have to go pedantic and get out the colour swatches for exact matches; you can look for a colour family (blues, greens, reds, etc) or go for something a bit broader — cools, warms, neutrals, metallics. Once you've settled on your palette, then you can mix and match patterns — florals like Langella, stripes like Gannon, even a braided detail like Novello.
---
Remember, at the end of the day, it's up to you how you mix patterns. Experiment, play with texture, colour, scale alongside pattern, and have fun creating a distinct look.