Why We Love These Gender Neutral Baby Colours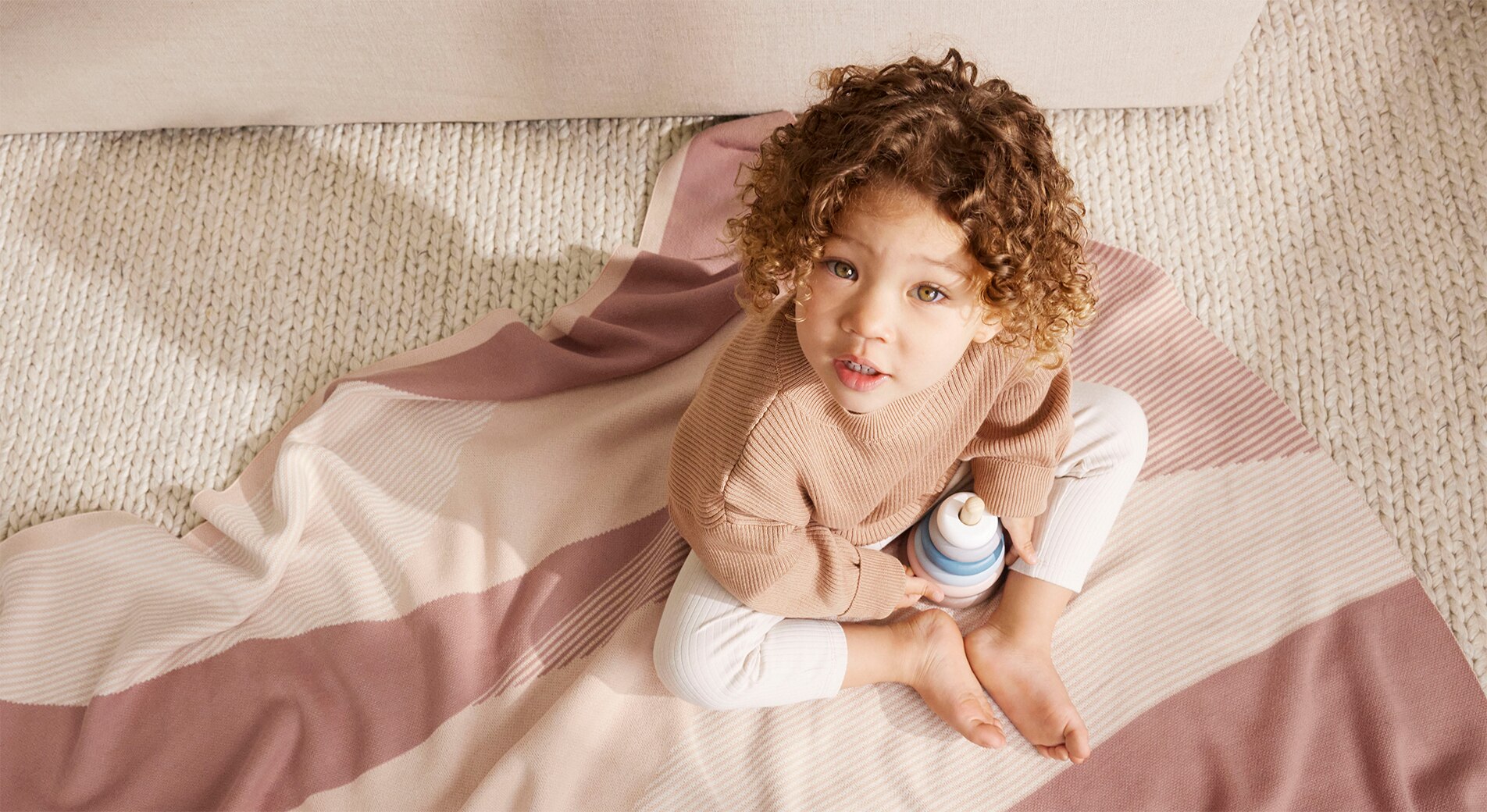 There are two colours most commonly associated with the sex of a baby. Let us guess — before we even went into specifics, those two shades immediately popped into the front of your mind.
Pink and blue — are we right?
From gender reveals to aisles at your local kids' retailer, we're guessing you've seen an overflow of these two stereotypical baby colours. In fact, you may have found yourself questioning "Why is it pink for a girl and blue for a boy?"
The history behind it is a bit more complicated than that; it dates back over a century. It's less about boy colours vs girl colours — in fact, the concept of colour as a signifier of gender was only introduced in the 20th century. But we're getting ahead of ourselves.
For centuries, most parents would dress their children in white. Cue horrified gasps from any parents reading this article, and an immediate search for Napisan. According to Britannica, white clothing was popular as it could be easily bleached; it was a matter of practicality.
Then, come the mid-19th century, pastels arrived as colours for babies — including pink and blue, but not exclusively. Fast forward to 1918, and the concept of blue and pink as a signifier of a child's sex was born (excuse the pun). Except, in a surprising twist — and subversive one, looking at it over 100 years later — pink was for boys and blue for girls.
Why? According to the Smithsonian Magazine, quoting a trade publication from the time, "The reason is that pink, being a more decided and stronger colour, is more suitable for the boy, while blue, which is more delicate and dainty, is prettier for the girl." Retailers in the United States jumped on board, advising parents to dress their boys in the pink — all throughout the 1920s.
It was the 1940s when this trend really swapped — pink became a girls colour, and blue, a boys one. It took a dip in the 60s and 70s — the women's liberation brought a rise in gender neutral colours and fashions. As for the 1980s? Prenatal testing brought the stereotypical baby colours back; retailers jumped on board with gendered merchandise.
And 40 years on, we're seeing a change — retailers across the US are slowly, quietly, shifting to gender-neutral baby clothes, according to Vox. In fact, here at Sheridan, we're also bucking the trend of stereotypical colours for babies.
Our favourite gender-neutral colours for babies? Think playful peach and my first monochrome. Across our latest season of baby offerings, we're seeing shades of sunset contrast with graphic tones. Just because it has the word "neutral" in it, doesn't mean it's boring. Our chosen palette for babies is anything but.
Gender Neutral Baby Colours: Playful Peach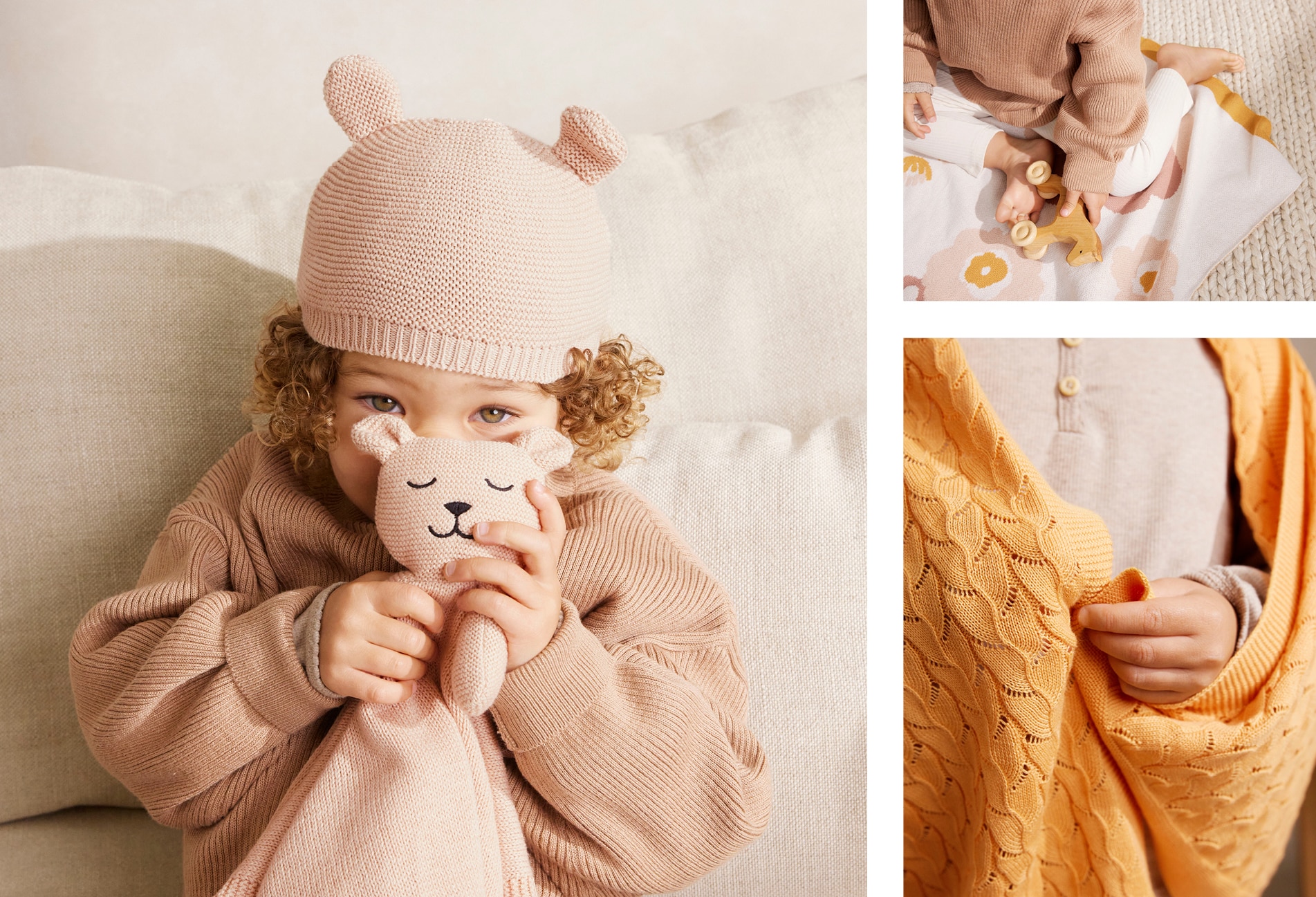 Across trends for baby offerings — yes, just like loungewear, baby have trends too — colours are moving towards warmer shades. So says our Head Designer across our baby collection, Romaine Sutton. In addition to this, it helps add a "contemporary touch," she explains.
Derived from orange, a colour that radiates warmth and energy — stimulating and thought-provoking, according to Dulux — peach is an ideal gender neutral baby colour. Adobe reports pastel peaches as being "sweet, pleasant and friendly." Their brighter counterparts? Energetic, playful, encouraging — sounds perfect for a little one.
If you've already crafted the perfect nursery, we have some easy suggestions of how to incorporate the shade peach throughout.
The Keelan Baby Blanket will brighten up the nursery with its seasonal shades. Double-sided for double the fun — or double the styling opportunities — the face features a sweet floral pattern crafted by Sheridan's own Design Studio, while the reverse features a solid colour with thin stripes throughout.
If you're looking for wraps in the same sweet floral pattern, we've got you covered with the Mysie wrap set. Designed for firm and comfortable swaddling — for extra advice on this, we even spoke to Red Nose — your little one will love being wrapped up in this shade.
Dalila, in a rich apricot, is knitted in 100% organic cotton yarns. A vintage-inspired pram blanket, it's also perfect for bassinettes; its rich texture makes it an eye-catching addition to your little one's space.
Gender Neutral Baby Colours: My First Monochrome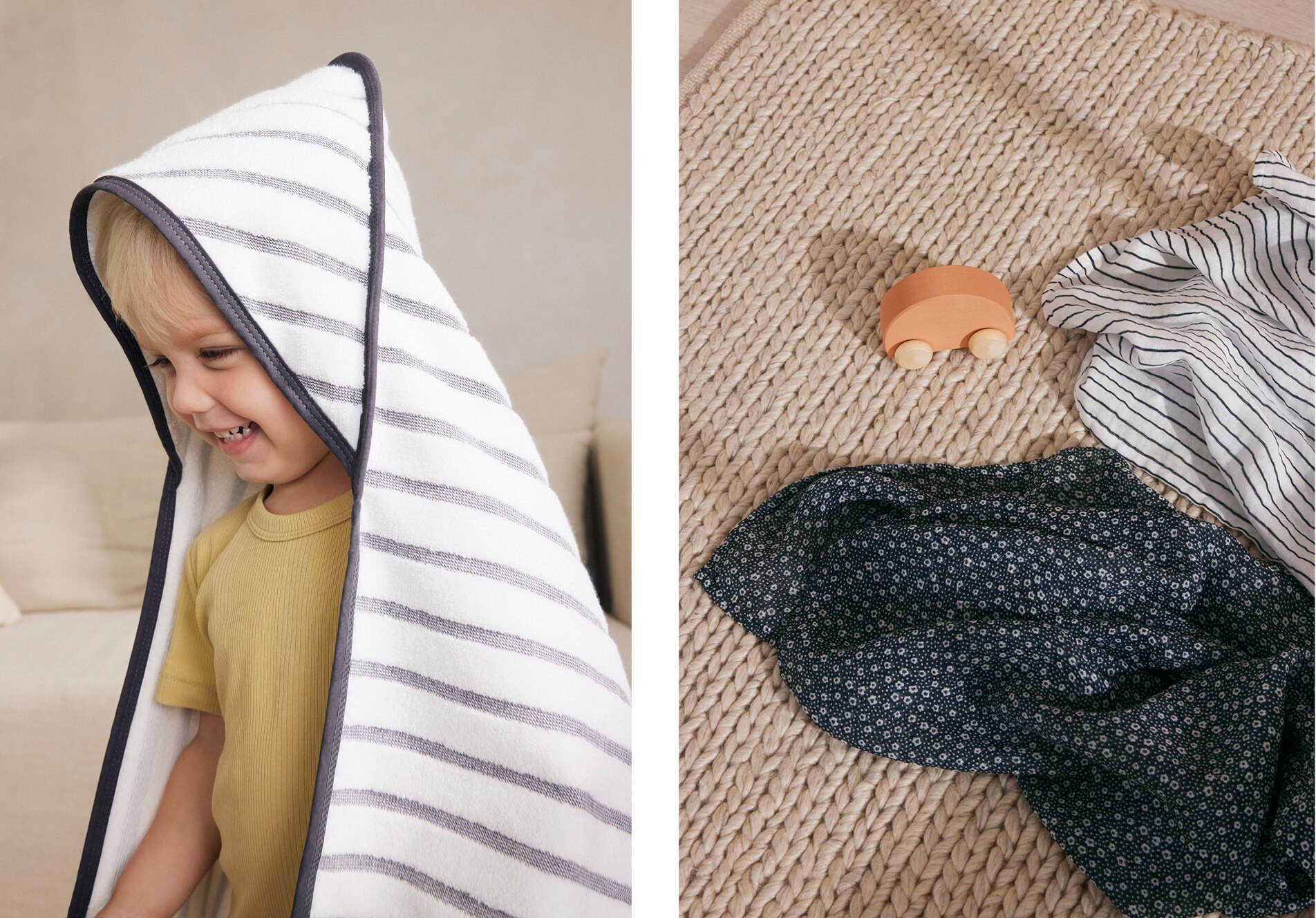 What's black, white, and potentially red all over? Turns out, it's your newborns colour perception — according to the Scottish Book Trust. Before birth, babies can tell the difference between light and dark. After birth, they can see in black and white.
Why are we telling you this? Well, it's part of the reason we liked black and white so much as gender-neutral shades — this high contrast is great for their development. We also considered it with parents in mind. Romaine says it's for those of you who "have that style in their own home and want to extend it into the nursery." And last, but definitely not least, it goes with this season's theme: Harmony of Contrasts.
Looking to bring these graphic shades into your home, just for your little one? The Pacey Pram Blanket features a sweet mini spot pattern in colours of — you guessed it — black and white. The sides are fully reversible and for your little one's comfort, it's crafted from 100% organic cotton in a super soft knit.
The Albie Hooded Baby Towel, perfect for post-bath snuggles, features a sweet whimsical design in monochromatic shades, on the hood and the piping. In the same colour scheme with the same pattern is our Portable Change Mat — perfect for parents and bubs on the go. Who doesn't love taking a ditsy floral print with them?
---
Now that you've learnt the history of sex-specific baby colours — and we've introduced you to some gender-neutral shades that are ideal for baby boys and baby girls — it's time to go forth and put your newfound knowledge to the test. We look forward to seeing the results!