How to Reuse and Upcycle Empty Candle Jars and Diffusers
So, you've changed your space with scent. You looked through our candle offerings and chose your favourite one — whether by scent, colour or even name, we don't judge. In doing so, you've realised just how much of a positive impact scent can have on your mood, especially if it involves working from home. Except you've lit your candle and created a soothing atmosphere in your home so many times you're down to the final remnants of wax. Now what?
Perhaps you're on the cusp of delving into home fragrance. You're intrigued about diffusers — and who could blame you, with our new range of them — but you're wondering exactly what happens when the reeds are fully saturated and the scent stops blooming. Then what?
Well, as you know, we're all for recycling — and now it's time to talk about upcycling. At Sheridan, we challenge ourselves to design for end-of-life, which is exactly what we've done with our home fragrance. Set in modern, coloured glass vessels, both our candles and diffusers can be reused, repurposed, or upcycled once empty, for a variety of different purposes.
Here are some simple ways to upcycle a candle jar or diffuser — and yes, we'll cover cleaning them out first.
---
How to Reuse A Candle Jar
Step One: Empty The Candle Jar
If you want to reuse an empty candle jar, the first thing you have to do is empty it. According to Architectural Digest, the two best ways to do this are by cold or heat.
Before either of these steps, however, try and remove any remaining wax you can. Use a spoon or a butter knife — nothing with edges too sharp, as it may scrape or chip the container.
Cold helps shrink wax, so pop your candle in the freezer. Do check regularly, to make sure the glass doesn't crack. Afterwards, it should pop right out. With heat, you can use warm to hot water (but not boiling!). Pour it directly into the jar, with some space at the top. The wax should melt and float to the top; let the water cool before straining.
Step Two: Clean The Candle Jar
This is a simpler step than the one before. If there's any smoky residue on the candle jar, wipe it with a damp cloth; vinegar works wonders too. For your average clean, think of any other kind of hand washing — warm water, soap and a sponge. You can leave it to air dry like any other type of glass, or wipe dry with a towel you have handy; a dish towel or paper towel should do.
Step Three: Reuse The Candle Jar
Now that you have a clean glass candle jar, it's time to reuse it. Here are several ways — and this list is definitely not exhaustive — that you can reuse your glass candle jar.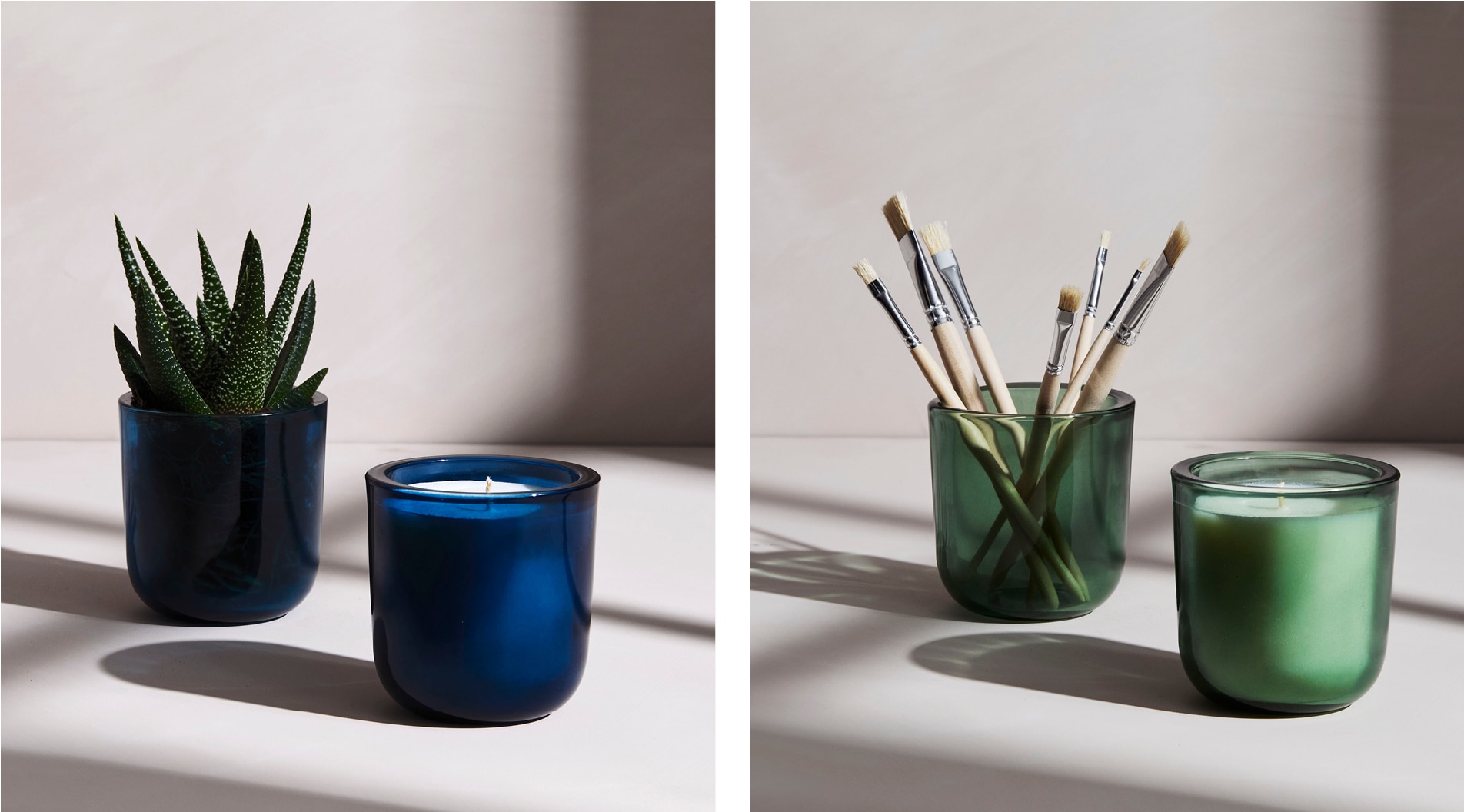 Candle Jars for Your Bathroom
With so many colours on offer, our scented candles will make a striking storage solution in your bathroom when emptied. Got too many toothbrushes to count? Empty candle jar. Can't keep track of bobby pins and spare hair ties (every woman's burden to bear)? You guessed it, use your empty candle container to keep them in. Makeup brushes and sponges, cotton balls or q-tips — things that could look messy sprawled across your bathroom counter can now look neat and tidy.
Candle Jars for Your Workspace
If you've ever been on a Zoom or Teams call — or you're scheduling your personal life when you're meant to be in those calls — you know how it feels to scramble for a pen to write something very important down. But somehow, you can never quite find where they are. An empty candle jar is an easy solution to a long-suffering problem. And if your workspace is more art-inclined, they're great for pencils, paintbrushes, and more.
Candle Jars for Your Living Space
Not into a storage solution, and still want these coloured glass candle jars on display? A small succulent or little cactus will find their dream home with these reusable jars.
If you're into growing your own herbs, these will sit pretty on your kitchen windowsill. And if your thumb is more brown than green, you can always use them as a flower vase — whether gifted, found or fake (we won't tell).
Candle Jars for Your Kids
Now we're not necessarily suggesting a swear jar, but if the shoe fits…
Regardless, an old scented glass container can be great for holding spare change. At the end of the month, you can count up how much you have and spend the amount on a little treat for the whole family — anything from chocolate to split during a movie night or sleepover, or maybe even takeaway for everyone.
It can also be used as a point of bribery for little ones. Store up wrapped chocolates or lollies in there, and dish out how you feel free.
---
Step One: Empty The Diffuser
This one is a little easier to do compared to its candle counterpart.
First off, remember that if there's scent left in your diffuser, it's easy to just buy new reeds. You can keep alternating sticks until there's no scent left — that's when it's time to empty it properly.
Reeds that have been used in a diffuser can't be reused for the same purpose once they're completely soaked, but they can be used for other purposes. Place them in drawers or pantries for a subtle smell. Use them within your garden — they can be used for plants to climb up, or for twine to be tied to, to keep a plant growing straight.
Kids have done so much macaroni art that they're out of pasta? Use the reeds for arts and crafts — just be careful to cut and not snap them, so there's no chance of splinters.
Step Two: Clean The Diffuser
After you're finished with the reeds, it's simple to clean the bottle out. Hot soapy water will work a treat; leave it to soak for a while. Once that's done, give the empty diffuser bottle a scrub if you can before letting it air dry.
Step Three: Reuse The Diffuser
If you're wondering "Can I reuse this diffuser?" the answer is yes, you can. You may not have quite as many options with an empty diffuser container as you would an empty candle jar, but there are still possibilities.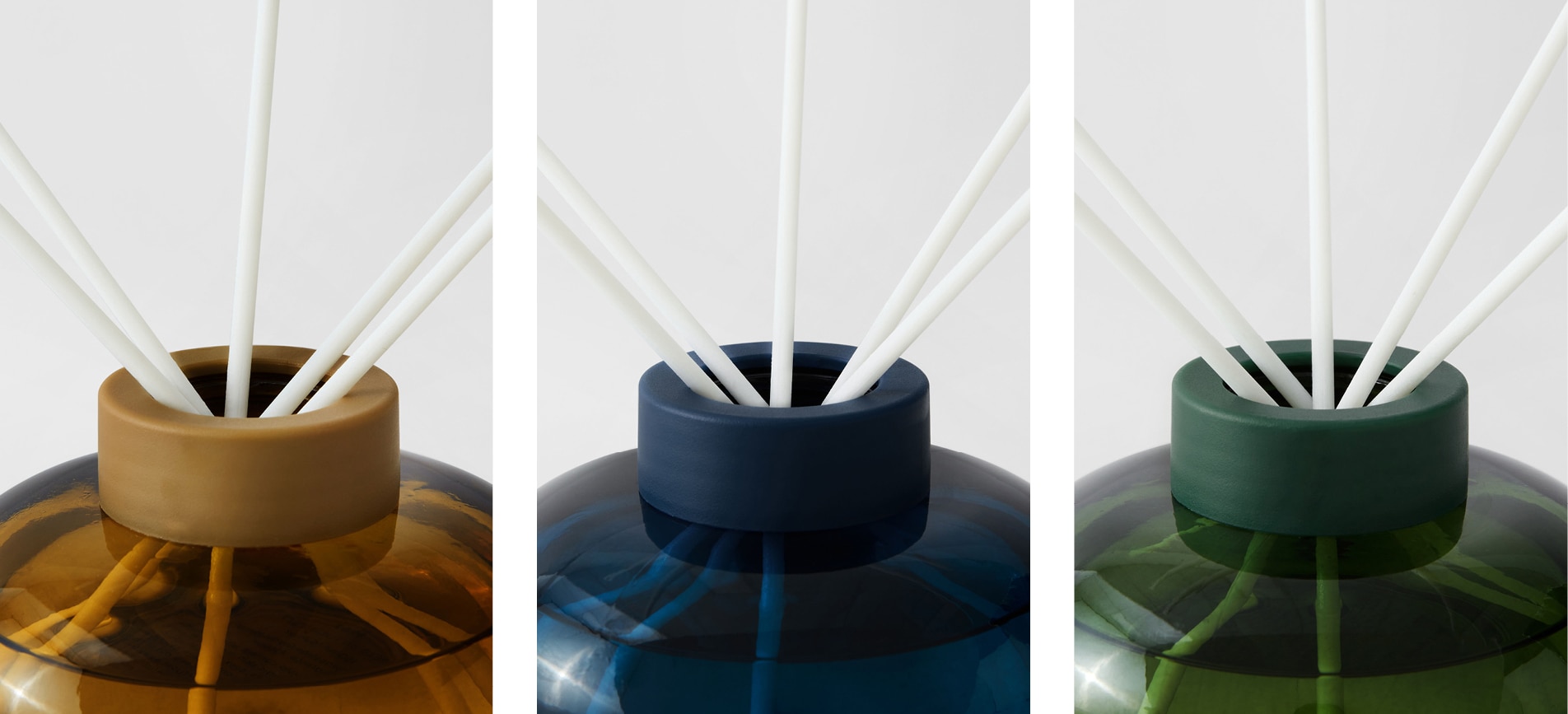 Diffuser Bottles for Your Bathroom
You can leave it your empty diffuser containers and place unused reed sticks — or other aesthetic sticks you may find — within, for a piece of decor that adds a bit of colour to your space.
Diffuser Bottles for Your Living Space
Bit of a bookworm? Fill your diffuser bottle with something that has a bit of weight behind it — think sand, or some pebbles from outside — and you can use them as bookends. If you're more of a coffee table book collector, make a beautiful stack of them and place an empty diffuser on top with a single flower for a striking look.
Speaking of flowers, if you have dried flowers from a special occasion — a teen's formal, a wedding, or just some pretty flowers you may have bought for yourself — place a select few of them into the diffuser; they'll look beautiful placed on display.
---
So there you have it — several ways to reuse and upcycle your empty candle jars and diffuser containers, that'll still have your home looking great.